2009 Facebook Demographics and Statistics Report: AU and US Compared
Thanks to Tamar Weinberg for alerting us to an update by Peter Corbett about Facebook demographics for the US. The main learning there is that the number of 55+ year-old users has increased by 513% since the last check six months ago.
I don't know if similar Australian stats have been published yet, but I just compiled them using the same Facebook source – compose a dummy ad, then you get the screen where you can view statistics by selecting or unselecting various parameters.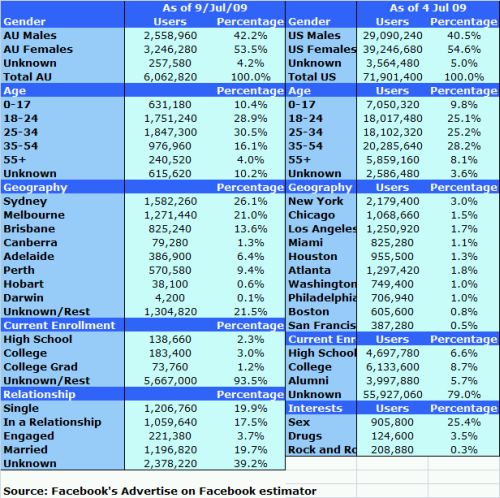 I was unable to see the Interests data but I have placed Peter's latest data to the right of the Australian figures. While Peter's total count of the US user population is almost 72M, today I see just under 70M for the US. Did 2M close their accounts within the past five days?  Were they fake accounts that were cleaned up? Just in the past 30  minutes the US total has shot up by about 300,000 people. What gives?
Australians on Facebook
About 6M Aussies are on Facebook or at least have opened an account. The gender breakdown is almost identical to the US. The age distribution in the US steadily increases between 18 and 54, whereas Australia peaks in the 25 to 34 range.
The user distribution among the Australian cities follows roughly the population distribution patterns, but we have a large number of Unknowns (and/or country residents). When you look at the small size of the San Francisco user population you wonder if these locations are based on what the user selected (I believe this is the case), or Facebook knew which locations to group into the closest metropolis. In most social networks I enter "Melbourne" as my location, not my suburb; however, if I were entering my postal address (at some trusted site and I could see some point to it), then the stats would be more accurate. In Australia, few people live in the central business district, which bears the name of the city, so that may explain Australia's large number of Unknown locations in FB.
We are either coy about our education or are less educated than the Americans. The spread between singles, marrieds and in a relationship is almost equal, but those currently engaged seem to have very little representation on Facebook.
Bear in mind the probability that some people enter bogus details at such sites, and some nations more so than others. So treat the analysis accordingly. In my limited experience of my own network, Facebook users interact largely with their real-world friends and are less likely to fake too much.
Check out Peter's post for a detailed insight into the US figures.