BlackBerry Bold 9000 smartphone announced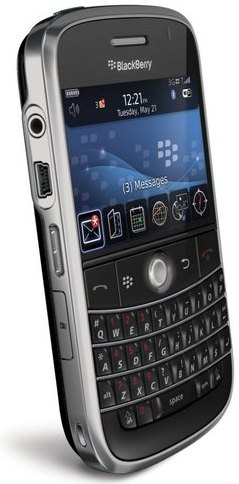 Research In Motion (RIM) will ship the BlackBerry Bold 9000 multimedia smartphone this northern summer. It features a world-first for a BlackBerry: It supports Wi-Fi (802.11 a/b/g), tri-band HSDPA high-speed Internet access and has an integrated GPS. The new "Push Button Setup" will make it faster to connect to protected wireless networks that require a sign on process
The BlackBerry Bold comes with 128 MB Flash memory, 1 GB on-board storage memory and a microSD/SDHC memory card slot where you can add further storage. Apart from being a phone, it also manages your email, messaging, organiser and web browser. The supplied DataViz Documents to Go suite enables you to view and edit Word, Excel or PowerPoint files.
The 480 x 320 colour display is fused to the lens, which promises to show videos and pictures with great clarity. The photograph on the left suggests that the viewable area is very small, but judging by from other images seen on the web, it appears that during video playback the full screen area is used. That is probably also the case while browsing the web or reading emails. Streaming videos can be watched via RTSP – real-time streaming protocol and you can download files from websites and save them on the phone's memory storage.
At 2 Megapixels, the camera won't attract much interest, but it has a flash and 5x digital zoom. The USB 2.0 interface enables the device to sync with and transfer files from a PC.
The media player comes with Roxio Media Manager for BlackBerry and Roxio Photosuite 9 LE, which enable you to enhance pictures and create photo albums on your computer. You can also sync iTunes music collections with the smartphone. Music can be played through its stereo speakers or headphones and you get 11 pre-set equaliser settings.
The integrated GPS works even while you are on a call, so you can be talking to a rescuer while giving them your precise location!
Premium phone features include Speaker Independent Voice Recognition (SIVR) for Voice Activated Dialing (VAD), Bluetooth 2.0, which supports hands-free headsets, stereo headsets, car kits (including the ones that adhere to the Bluetooth Remote SIM Access Profile) and other Bluetooth peripherals. Its quad-band EDGE and tri-band HSDPA support global roaming.
Smart phone features include dedicated "send", "end" and "mute" keys, smart dialling, speed dialling, conference calling and call forwarding. Its noise cancellation technology masks background noise. There is a powerful speakerphone and support for polyphonic, mp3 and MIDI ring tones.
The removable rechargeable 1500 mAh battery provides talk time of about 5 hours and 13 days standby time. Supplied extras include a stereo headset, travel charger, carrying case or sleeve and USB cable.
You will soon be able to pre-order the BlackBerry Bold 9000 at Amazon.