Migrating a Thesis blog
I don't get time to look at this blog much these days, but having switched my VPS yesterday, I decided to use Yslow, Page Speed and Firebug to check its performance. It isn't good but the price is right for what I am doing.
Something stuck out when I looked at the Firebug display: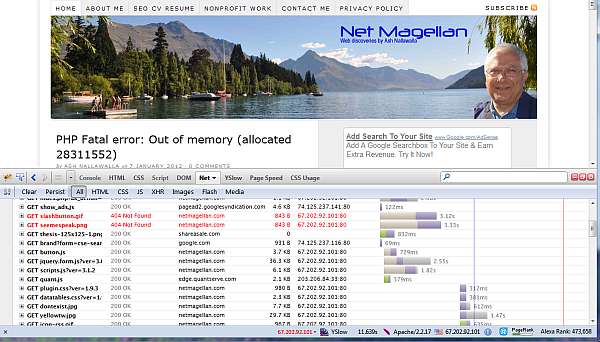 Two images were missing on the home page. Upon checking with my FTP program I was horrified that the /images directory was missing. I remembered that I had moved this blog from a sub-account to its own account on this VPS. The process of migration is well documented in many places — I had simply forgotten to upload the /images directory at the new installation.
I hadn't noticed this problem at the time (perhaps a month ago) because my recent posts use the built-in media uploader and those files go into their time/date-based folders, whereas the /images folder was from the olden days when I used to upload images by FTP, then point to them from the article. The newer posts showed their images nicely; the old ones didn't.
The moral of this lesson is simple. Keep a note of all the folders on the old installation, copy them to your local drive; save a WordPress backup on your local machine; save a Thesis total backup on the local machine. Then install the new version, add Thesis; restore from your Thesis backup; restore the WordPress posts; check a few random posts, particularly some very old ones that contained images or other media.
All those missing images couldn't have helped my rankings, although I am not monetising this site seriously.