My Nokia N95 is half baked – Review by Ash Nallawalla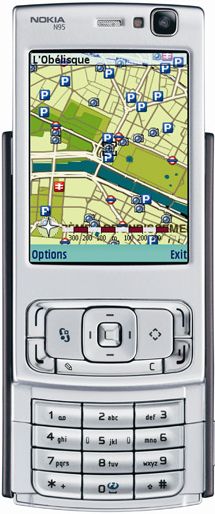 On 25 June I signed up for a two year contract with 3, as I have been waiting to get the Nokia N95. My Nokia 6310i was five years old and out of contract. I was paying more than $120 per month on my $20 contract (I am a light user with some regular overseas travel, which causes this variation).
I was attracted by two features of the N95:
Mobile Code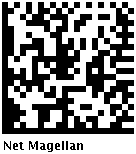 Here is the barcode (not really bars) for this blog. If you have a mobile code scanner in your phone, you can bookmark this site by scanning this picture. Permalink.
Bad Points
Poor battery life. I have to recharge it daily, despite charging it for 24 hours on its first use, more than recommended by the 3 retail booth at Werribee Plaza. Overseas websites suggest many ways to reduce battery drain including changing from 3G to GSM. They say to use this set of steps:
"Tools | Settings | Phone | Network" but I don't see such a sequence of steps on this phone, so I cannot change from 3G to GSM.
In fact I have two parallel top level options:
Tools
Settings (among others).
From Settings, I have:Network > Operator Selection (manual or auto)
and Network > Cell Info Display (which doesn't work on 3)
The only network operator I see as GSM (antenna icon) is Roaming, whereas 3 is just 3G. Am I out of luck as far as GSM goes? Yes, 3 has chosen not to let us opt to only-GSM, as is possible on an unbranded phone.
The N95 is set to transmit WiFi at 100 mW, so I reduced it to 10 mW.
Where to Register? The N95 in Australia comes with a plastic card telling you to register at http://www.nokia-asia.com/mynokian95, but no such page exists. Didn't they check this URL before printing the cards? In fact the site map for nokia-asia.com does not mention anything about registering a phone.
Unwanted Subscription. I got my first bill from 3 and noticed $3 for a Sports Pack subscription. I am not very interested in sports and certainly not enough to pay for a monthly subscription. After calling the 3 call centre in Mumbai, I had the amount reversed and the subscription cancelled. Upon checking my paperwork from the purchase, I noticed for the first time that the dealer had signed me up for it and had ticked a dozen or so items that she had allegedly informed me about. I should have stopped to read the three pages properly – you should, if you buy any modern phone that loves optional subscriptions.
The Nokia World
This is my first smart phone, as I am not on Nokia's press list and didn't get junkets to Finland or Singapore as did some of the commercial reviewers over the years. I just get to play with other people's phones and you don't find out their shortcomings in a couple of minutes. So, I explored the web and can recommend the following N95-related URLs that you can read at your own peril or pleasure: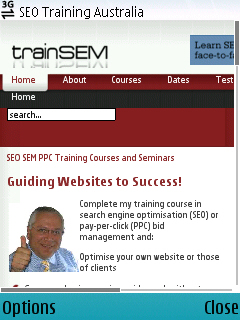 Half-Baked
So, why did I say that my N95 is half-baked? As I said earlier, the GPS was the main attraction for me, but a few things were news to me:
You cannot just walk out of the shop and use the GPS immediately in the car park. I know a few N95 owners who haven't figured out how to enable the Nokia Maps and Asia Maps applications or how to download a map.
I haven't worked out the reason for having both Asia Maps and Nokia Maps. The Asia Maps feature is a waste of space to me because it gives me maps of SE Asian countries I have no desire to visit anytime soon (Thailand, Vietnam, Philippines and Indonesia). I have to register to get voice-assisted turn-by-turn navigation and that too for a trial period. Nokia Maps works well with the GPS satellites.
Nokia phones seem to come with fewer accessories as the years go by. A mobile charger is essential if you actually use the phone while driving, but I haven't bought one yet.
It takes 2-3 minutes to get a satellite lock. Apparently firmware revision 12 gives us aGPS, which uses mobile tower positioning data to give an approximate fix that appears to speed up the result – except that this will cost a phone call to use. Whether that is one call per GPS session or dozens of calls are needed along the journey, I know not.
I had to rebuild my PC recently and I found the installation of the Nokia PC Suite and the phone-to-PC connection quite a performance that took a few reinstallations to fix. The PC went into a continuous loop of "New hardware detected" and "Nokia N95 disconnected via USB" that prevented the firmware updater from working – just as well, as an interrupted update would have made my phone less useful than a brick. After fixing that, it turned out that 3 hasn't released it for our use.
What Usability?
I have worked in and around Usability and Editing for many years in the IT industry and I suspect that Nokia's usability and editorial team cannot keep up with the number of new designs that are churned out. The buttons are very firm and slippery, so the keypad isn't a joy to use. Thankfully I don't send many SMS messages or surf the web with my phone. Calling someone who is in my address book is not as simple as the old dumb phones where I merely scrolled down to find a name. I now need several clicks to navigate to a number. On the other hand, I like the voice recognition – I press the headset button, say "Home" and the phone dials my home number.
The User's Guide and the accompanying booklets are disappointing (I was an editor at Unisys, so I can be anal about this). I don't know whether 3 has customised the menu so that it differs from the printed manual, but I want to comment on two points:
The icons used in the user's guide are not listed in a table, so you have to guess what some of them could mean. Being so tiny and in greyscale, you don't know whether they are phone buttons or icons on the screen.
Many instructions start with "Options". It took me a while to realise that there isn't an iconised option with that name that leads to the next level, but it refers to the physical button to press within any given screen. When you open this booklet in the middle – usually to solve some immediate need – you can get into my kind of problem. I was trying to pair my Jabra BT-150 headset and couldn't work out where to begin.
The headset problem wasted a day of my time going to the retailer, going back again to meet with the "technical guy" who worked the late shift, only to be told by him to see the original manager the next day, who told him to check my phone! It turned out that the phone was not faulty and neither was the BT-150. I had set the Bluetooth visibility to Hidden, because the phone's embedded Help says that already paired devices can still connect with it but the rest of the world could not. He changed the setting to Shown to All and my headset worked fine.
I still have occasional glitches when the headset doesn't come on immediately or I manage to hang up on the caller when I press its button. I miss the car cradle of the old 6310i but still find the N95 a great device, half-baked or not.