A better Google Maps from Yellow Maps NZ
Yellow Pages Group NZ has done the seemingly impossible – it has delivered a better Google Maps for New Zealand with a beautifully rendered integration with Yellow (Pages) content. The clean interface is devoid of ads (so far).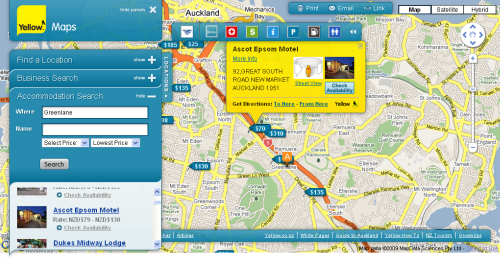 Ensure that JavaScript is enabled and head over to Yellow Maps for a look. You will find Google Maps overlaid with three search panels on the left, which can be hidden, collapsed, or expanded:
Find a Location
Enter a location or browse some popular destinations. I tried "Paradise", having seen that aptly named place once from the point where the road North of Glenorchy (near Queenstown) ends. I also looked up some of my old stomping grounds in Greenlane, St Kilda and the Otago university environs. Great, screen-wide Google map, with Satellite view but no Street View. Why not?
Business Search
The familiar What and Where input fields let you look up any business. I tried "Cadbury" in "Dunedin", expecting to find a famous landmark (It's at 280 Cumberland St). Unfortunately, all I got was the Leviathan Hotel a few blocks away. The real Google Maps has no trouble finding it. When I tried "Cadbury New Zealand", I got 33 results, none being the chocolate manufacturer. Uh oh. I was enjoying this site until now.
A flyout reveals a selection of Yellow categories. I tried "Automotive" and was unsettled when I clicked one of the results and ended up in Auckland. Clicking the flyout category populates the What search box but leaves Where empty, so you get a country-wide set of results, but the names don't usually give a clue as to the location. I'd prefer the search box to preserve my last location until I clear it. Apart from this quirk, this is a great way to display some advertisers.
Street View comes into view (pardon the pun) if there is a Yellow listing with a physical address.
Later this evening, Business Search isn't working at all (the status bar tells me "Transferring data from secure-nz.imrworldwide.com but nothing is coming through), although Accommodation Search is. Teething pains? After reloading the page, the app worked normally (it found me an electrician in Bluff) but an hour later the page was still "Transferring data from mt1.google.com". The typical non-geek won't notice that. I should mention I use Firefox 3.5.3, because the same page and search worked perfectly in IE8 – makes sense as it is an IIS 7.0 web server.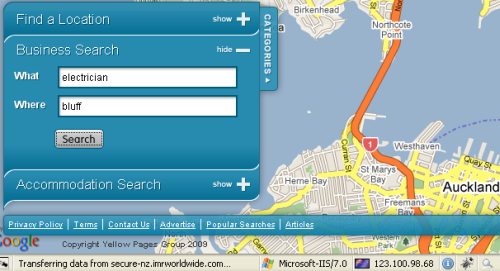 Transferring data, transferring…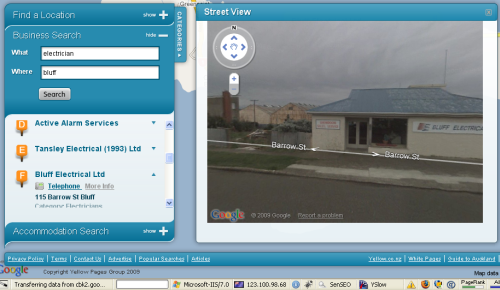 Accommodation Search
Accommodation providers can be found through another pair of Where/Name search fields. You can filter by price and sort by price or name. It's useful to see at a glance the room rates on the map, so a budget-conscious user can weigh the cost against the inconvenience of staying a little further away from some location.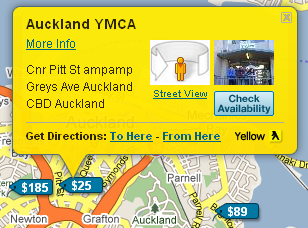 You can check availability of a room and make a booking too (via BookIt). This search type was the coolest feature for me. I looked up accommodation in Alexandra but was given just one result. This couldn't be right for Queenstown's poor neighbour, where many budget-conscious people stay. Sure enough, the Business Search for "motels" in "Alexandra" produced 25 results, as did Yellow proper (17 found).
Despite all the glitches noted, YPG is to be complimented for delivering an attractive, informative site that adds value to Yellow advertisers and users alike. No, they didn't pay me to say that. 🙂 Google is the elephant in every IYP's room, particularly Google Maps, so it is refreshing to see this implementation by YPG NZ, which could well become every Kiwi's default map destination.
Yellow is the core brand
YPG appears to have moved its revenue-earning White Pages product under the Yellow brand. The http://www.whitepages.co.nz/ URL redirects to http://yellow.co.nz/whitepages/. Many North American IYPs have moved their residential content to the Yellow Pages site and they don't usually have a separate Map product. They just license one of the third-party map offerings to enhance their listings. This must surely reduce internal competition and duplication of effort.