ACCC takes Trading Post and Google to court
Google and the Trading Post are unusual targets for the ACCC, which issued this press release:
The Australian Competition and Consumer Commission has instituted legal proceedings in the Federal Court, Sydney, against Trading Post Australia Pty Ltd, Google Inc, Google Ireland Limited and Google Australia Pty Ltd alleging misleading and deceptive conduct in relation to sponsored links that appeared on the Google website.

The ACCC is alleging that Trading Post contravened sections 52 and 53(d) of the Trade Practices Act 1974 in 2005 when the business names "Kloster Ford" and "Charlestown Toyota" appeared in the title of Google sponsored links to Trading Post's website. Kloster Ford and Charlestown Toyota are Newcastle car dealerships who compete against Trading Post in automotive sales.

The ACCC is also alleging that Google, by causing the Kloster Ford and Charlestown Toyota links to be published on its website, engaged in misleading and deceptive conduct in breach of section 52 of the Act.

Further, the ACCC is alleging that Google, by failing to adequately distinguish sponsored links from "organic" search results, has engaged and continues to engage in misleading and deceptive conduct in breach of section 52 of the Act. More…
Google Australia spokesperson Rob Shilkin has issued the following statement:
"Google Australia believes that these claims are without merit and we will defend against them vigorously. They represent an attack on all search engines and the Australian businesses, large and small, who use them to connect with customers throughout the world."
Peter Coroneos, Chief Executive of the Internet Industry Association, said:
"The internet industry has always had a positive relationship with the ACCC. It's very unfortunate that the ACCC has decided to pursue a litigious strategy against one participant, rather than consulting more broadly on an issue that affects the entire industry."
The ACCC statement suggests that the Title of the ads read "Kloster Ford" and "Charlestown Toyota" but the Destination URL (which is hidden from view) took the clicker to the Trading Post. I agree that I would be pissed off if my competitor used my brand name in their ad title, but I have to shake my head that the ACCC has been brought into this matter.
Today, a search for "Kloster Ford" in Australia (use &gl=au if you are overseas) brings up an ad for some company, but the Title text and ad copy do not mention Kloster Ford: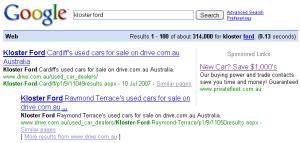 It is likely that this advertiser used "Kloster Ford" as an Exact Match keyphrase, since the ad does not show for just "Kloster" or "Ford", or "Kloster Ford is beaut". Similarly, a search for "Charlestown Toyota" brings up some other company's ad, but it appears to be triggered by the word "Toyota" so no big deal there. (Incidentally, search for just "Ford" and see whose ads come up!)
This type of activity happens a lot in PPC search engines – until the advertiser complains.
Today, Google's Editorial Guidelines include this advice:
Target Specific Keywords

Use specific keywords that accurately reflect your site.
Use keywords that reflect your location if you offer a location-specific product or service.

Example:
A Sydney apartment rental agency would not be allowed to run on only the keyword "rentals." The agency would have to use keywords such as "Sydney rental agency" or "Paddington flats."
and
Follow Proper Trademark Usage

Trademarks are important business assets that can diminish in value if they are not used correctly. To learn more about how we handle trademark issues within the AdWords Program, review our trademark policy.
which says, in part:
Also, our Terms and Conditions with advertisers prohibit intellectual property infringement by advertisers and make it clear that advertisers are responsible for the keywords they choose to generate advertisements and the text that they choose to use in those advertisements.
I can confirm from experience that a trademark owner can ask Google to disallow anyone else from using their marks either as Keywords or in ad copy (outside USA and Canada) or just in the ad copy (in USA or Canada). I have done this on behalf of clients, as would any other competent Google Advertising Professional, even before a breach occurs. Standard procedure.
I don't remember what the rules were in 2005; no doubt, they will be explored deeply in court. Perhaps, Google will build a massive database of every trademark on the planet and their owners, so that misleading and deceptive ads can never see the light of day! 😆
As for "failing to adequately distinguish sponsored links from 'organic' search results" – even in 2005, it was easy for anyone with a working eyeball to tell one from another. Here is a comparison between 2003 (left) and 2007 (right):
In 2003, the ads were quite some distance from the organic results (picture from my article in APC magazine). There are plenty of screen shots from 2005 on the web that are clearer than my image and which show a similar separation between the organic and PPC results.
Anyway, the SEO in me is asking, "who said that Google needs to place ads in any particular place, font, or colour?" As a user of the Web, I don't remember signing any agreement with any search engine that protects me from clicking an ad.
If the ACCC really wants to see ads that are cleverly placed alongside non-ads so that it is hard to spot the ads, they should visit some Made-for-Adsense sites. I noticed that ZDNet.com.au also has "Sponsored Links" at the bottom of the page. Oh my, it is the same font and colour as the block next to it. Will it be next on the ACCC's radar?