Adobe CS3 has only 20 activation/deactivation cycles
I made a shocking discovery today. I was going to uninstall Adobe Web Suite Premium CS3 from my hard drive to move to another PC when I got this message upon clicking the Deactivate option: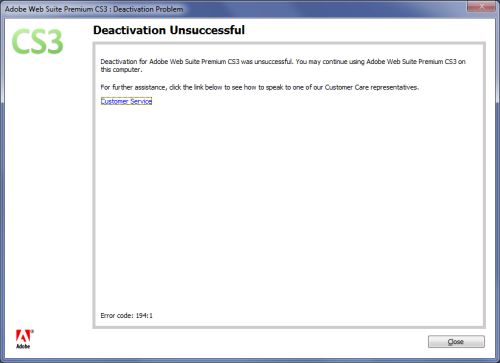 I knew there was a problem with CS3 when I had installed Windows 7. Over the years I had installed CS3 on many of my PCs but I had never noticed "Deactivation". This time I could not install and the error message told me to deactivate it on another PC. I dutifully did so, thankful that I hadn't overwritten that drive.
Today I was about to take CS3 off this PC and move it to another that I was planning to use just for web work. The damn thing would not deactivate. I looked around the Adobe forums and there were a few people with this problem and others were just telling them to call Adobe Support (the same as the advice on the error dialog). I am usually doing these things on a weekend and I doubt if Adobe Support is available on a Sunday evening. Surely the solution must exist somewhere.
I found it: CS3 Activation Limits – a post by Bob Levine over a year ago. To my amazement I am informed that CS3 has only 20 activation/deactivation cycles!When you hit the 20th activation, you can't deactivate it. You have to call Adobe Support and they give you five more activations. I have yet to do that.
To think of the CS3 activations I have lost over the years on dead or reformatted disks. It's never been on more than one PC at the same time. Silly me, thinking that Adobe activation was like Microsoft Office's, which has a sensible mechanism that works out whether you are sharing your licence or using it on your own PC. If I hadn't been a Macromedia casualty back in 2002 and was still at Adobe, I'd have given the product manager and the anti-piracy chap my opinion of this idea. It doesn't stop people using cracked copies and only inconveniences the legitimate owners.
I have no idea about CS4 activation/deactivation restrictions but if you have either versions, be sure to deactivate before uninstalling.