Adventures in Black Hat Land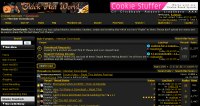 Blackhat World is a fascinating forum full of discussions supposedly about the black hat side of SEO. It turns out to be more about sharing cracked versions of scripts and programs, backdoors to ebooks without paying for them, links to spam tools, and so on.
You can post links to ebooks, as long as you don't post the links of products authored by BHW members. I became aware of tools that help spamming, such as GYC Automator, which lets you create "as many Craigslist accounts and also create and manage corresponding Gmail and Yahoo! email accounts." The marketing literature gushes, "Key to good business is good marketing and for good marketing you have to utilize Craigslist at its maximum. To do so you must post as many as 500 or more ads per day and use at least 500 active email accounts to be able to make this happen. It is difficult and time taking process to create and manage such number of accounts manually, it will keep you busy in creating email accounts and hardly you will get time to post ads." Poor Craigslist sysadmins – they must have their work cut out for them.
Another hot topic is cookie stuffing, a way to drop, say, your Amazon affiliate cookie on your visitors, so that if they visit Amazon and buy, you get your commission. You may have seen companies that sell you "traffic" to any website of your choice. These are not real human visitors but browsers that open a tiny window on people's PCs but they never realise they "visited" your site. You can get software to generate such visits – pretty pointless for making money, but they can help to inflate your visitor count for sites such as YouTube or Alexa rankings. If you stuff cookies, you will need this kind of junk traffic, otherwise your affiliate clicks will equal the number of buyers and you'll be kicked out by the affiliate network.
I also learnt that Alexa's search crawler does not look at robots.txt, so it knows all pages of a website, including the "thank you" pages that have a link to a purchased file. There is an entire thread full of Google, Yahoo and Alexa search terms that could lead to "free" downloads.