AdWords Business Pages and a curious domain
Last December, Google launched AdWords Business Pages. Today, Google Australia announced it in Australia. What are AdWords Business Pages (ABPs)? They are a single-page website meant to be a landing page for a business that does not have any website. When you open a new AdWords Starter Edition account (and not Standard Edition), you get the option to create one. If you are an existing advertiser, you are SOL — at this time you can't get one, but then existing advertisers would have a website.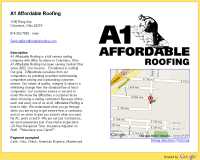 ABPs seem to be hosted on the subdomain biz.googlepages.com. A typical site is here. As you can see, you can upload an image and link to a Google Map.
An Aside
Curiously, a sub-subdomain http://nura.biz.googlepages.com/ seems to be a private site in Russian. In fact, there are numerous, dubious residents of sub-subdomains of biz.googlepages.com as evidenced by a "site:" command. Now, googlepages.com is owned by Google Inc and is used for creating a Google Page. The IP address is 72.14.207.118, which has some interesting tenants such as http://gr8tools.com/ or http://baidupages.com/. You will need a paid account at Domaintools to see all 48 of them. They seem to be domains used some years ago possibly for testing Google Page Creator templates – example. Nothing too exciting there, but those sub-subdomains are either uninvited guests or they are Google's own spam test pages – translated example. Weird.
Back to ABPs
IMHO, AdWords Business Pages are a good idea but are either deliberately crippled from an SEO perspective or were built independently from Google Page Creator, aka Google Pages. Google should have combined the two page creators and offered some paid options (the usual things that SEOs want). The ABP URL is too long to be used for anything but a Destination URL (in an AdWords creative). The Google Pages URLs are great – why was that format not offered to the ABP customer?
You cannot visit a displayed ABP URL such as http://biz.googlepages.com/workfromhome. That link shows an error message that says you must click the AdWords ad to get there. If you want to see where these ads have been displayed (publisher sites), look here.
Incidentally, the sign-up process for AdWords Starter Edition does not match the sequence shown in the demo, namely, you don't get to use the ABP wizard early in the process. If you were a US customer and happened to know this URL, you will see a completely different set of steps. Instead of being forced to compose your first ad cold turkey, you get the option to access a great creative wizard. It asks the following questions with some sample responses that are used to build some sample ads:
How would you like to encourage customers to visit your site? e.g. Request A Quote Today
How would you like to describe your customer service? e.g. Great Customer Service
Select the word(s) that describe your business. e.g. Experienced
What geographical locations do you serve? e.g. National
Would you like to offer a special incentive? e.g. Free Initial Consultation
How many years of experience do you have?
What Is The Name Of Your Business?
Do You Offer Any Type Of Guarantees e.g. 100% Guaranteed
You still don't see the ABP wizard before you create the new AdWords account with a Google Account.