Amazon Kindle Surprise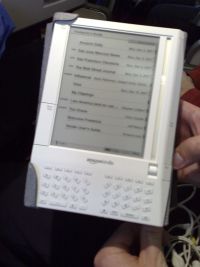 Enroute from SFO to LAS for Pubcon, I noticed my neighbour get out a device that I had not seen before. Turns out my neighbour was Fred Vallaeys, a Google Product Evangelist, who was a fellow speaker at Pubcon!
Fred kindly let me have a play with the Kindle, which is sold by Amazon. It cost $399 plus $24.99 for a protective, book-like cover. The display is easy to read in bright light. The scroll wheel works well but the keyboard is awkward to use. The Kindle is linked to your Amazon account, so you can order books and magazines from it.
Non-USA people like me can forget the Kindle for the time being. It connects to a special wireless service in the US, so it won't work outside the US, other than to display content that is already in it. You would have to get the content with a PC and then transfer it with a USB drive. However, such problems have a silver lining in that we usually see a second generation device with all the kinks taken out. But Amazon hasn't come to Australia, so who knows if we will see the Kindle in Oz.