Auschwitz sign stolen while Drowsily Manifold sleeps
It's a sad indictment of the times when the print media can't hire competent humans to proofread the galleys but resort to spell checkers. But sometimes, the result can be funny; sometimes it is apt. From the Melbourne, Australia Herald Sun, 19 December 2009, page 43: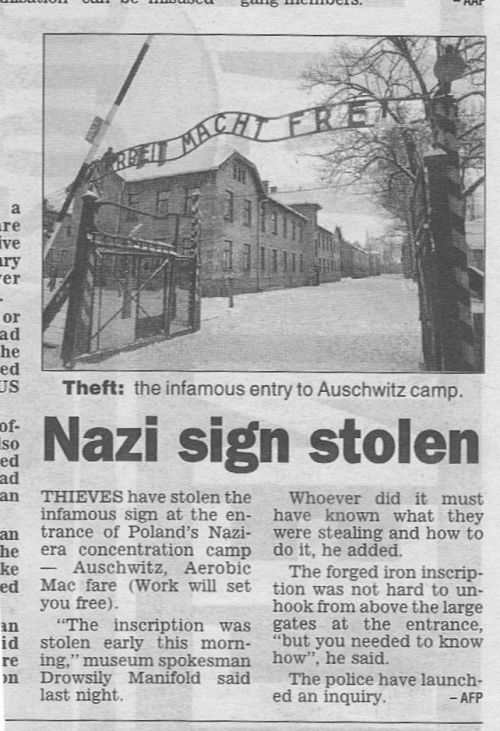 With my unusual Indian surname I can sympathise with a lot of Poles whose names can neither be spelt nor pronounced correctly by the rest of the world. What hope, then, is there for a newspaper spelling checker close to deadline time?
I was lazily browsing the local paper on this cloudy summer morning when this small item caught my eye. After reading it, I sensed something wasn't right. The museum spokesman is named Drowsily Manifold? Drowsily, Vasily – maybe. Those East European names can end in 'ly'. But Manifold? I wouldn't be surprised if that was the middle name of some British aristocrat, but not in Poland. Never. Then I noticed "Aerobic Mac fare". There is a sad irony there. Nothing that happened in that infamous camp deserves those words.
The online version of the Herald Sun article is barely a sentence or two in length, but its stable mate the Brisbane Courier Mail article has a more plausible name "Jaroslaw Mensfeld" and "Arbeit Macht Frei" is correct.