Beta Google Keyword Tool Now in Production
The Inside AdWords blog reports that the Google AdWords Tool now shows "more relevant" traffic estimates. I don't like it so far, more relevant or otherwise.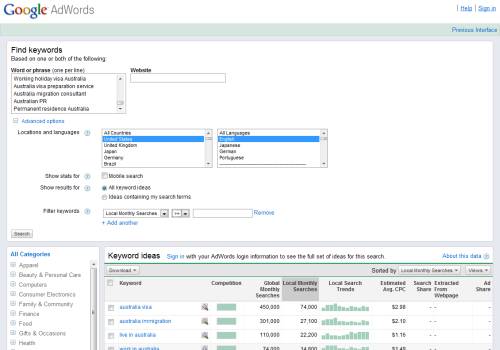 I was chucking keywords into the tried and tested keyword tool when I noticed the link to the new tool, so I took a look. The old information is still there, and some features from the Search Based Keyword Tool are incorporated.
So what didn't I like? Actually just one thing — when I choose (Show results for) Ideas containing my search terms, I get zero results. Even if I enter "Google" I get zero results. What am I supposed to enter to see something for that option?
The option to enter a website URL apparently produces relevant keywords that you may not have considered. Good idea, but for my test site (an Australian migration consultancy), the suggested terms included inappropriate ones such as "embassy uae, canadian embassy, american visa" .  It also had fragments such as "visas for, visa and, etc" and other non-Australian keywords that would be worthless. Great for Google if your PPC agency uses this tool blindly.
This makes no sense. I liked the old interface, which first shows results based on my keywords, and then additional terms to consider. If you are not logged into your AdWords account, you only get a maximum of 100 results.
I suppose I'll get used to it.
Added 1/5/10:
I took a closer look at the downloaded Excel CSV file. This is an improvement. Instead of getting an unformatted file as per the old tool where we had to convert Text-to-Columns each time, we now get a comprehensive data dump in a zipped file.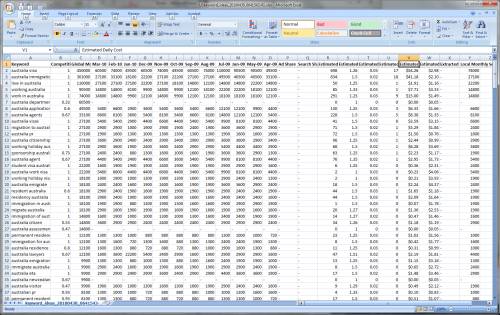 How useful is this dump? Most of it is not useful to me. For either SEO or PPC I am usually targeting a country or a smaller locality, so the Local Monthly Searches data is the most valuable. The global count is meaningless to me. When I try to sort the Local column from high to low, the hyphens are sorted above the largest number – zeroes would have been better.
I'd prefer to be able to choose which data I want to export, e.g. 12 months worth of Local searches would be more useful than the Global ones. Even so, monthly search volumes are rarely news to business owners, who know exactly when seasonal changes come into play. Over here, the period post-Christmas through mid-February is our summer break, when search volumes dip for most websites, particularly B2C sites.
Anyway, I know from my access to large traffic data sets that these numbers are wildly understated, so I don't scrutinise the actual numbers. They are good for assessing relative popularity of the keyphrases.
It would also be useful to be able to select more than one country at a time, showing each country's Local Monthly Searches results in a separate column. What do you think?