Bing Maps for Mumbai are seriously flawed
I will let the pictures do the talking here. I looked at Bing Maps for my childhood home in Bombay, India, which is in the area known as Thakurdwar, South Bombay. Compare the Bing map on the left with the Google one on the right. Click the images to enlarge.
Look particularly at the streets in the Bing map and see how they seem to go through houses seen in the satellite image overlay. Queens Road (Maharshi Karve Marg) goes through the sports gymkhanas near the ocean! Other roads are also figments of someone's imagination, perhaps drawn from memory?The little lane that skirts the little SK Patil Udyan (Garden) is Badod St, shown as Badod Galli (Lane) in the Bing map which barrels for kilometres through numerous houses in a straight line!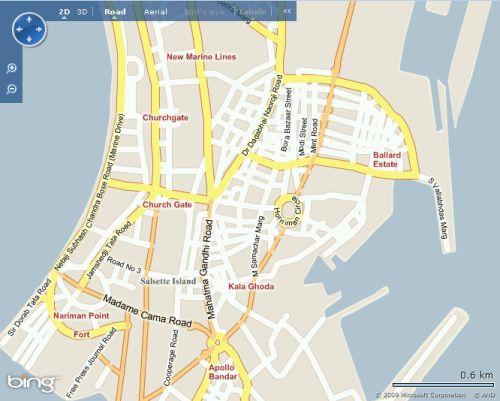 Check out for yourself at Bing Maps. (Annoyed that it forces the .au domain on me) Some of the other errors I noted:
Queens Road goes through the gymkhanas.
Apollo Bunder is near Regal, i.e. inland.
Salsette Island is near Flora Fountain and also near the Hanging Gardens.
Colaba has fallen into the ocean.
You get a Churchgate and a Church Gate.
Nariman Point has also moved Inland and Fort has moved south of it.
Khet Wadi also has a second clone.
There is a fixation with all these Wadis on the map, as if they are major roads.
The Google map doesn't have these problems. The street names are not spelt correctly but are near enough.