Buggy Apple Safari (beta) for Windows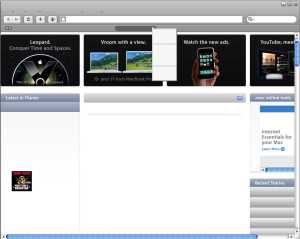 For some reason (some believe it is to help iPhone developers) Apple Computer has released a beta version of its popular Safari browser for Microsoft Windows. This has created quite a commotion, because it is so buggy. Bugs are expected in beta versions (and released versions) but this one has four Denial of Service (DoS) and two remote execution vulnerabilities, according to Slashdot, quoting David Maynor.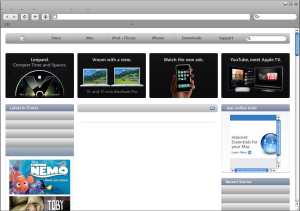 I installed it on my Win XP box twice and you can see the results on the right. The first installation is at the top and it did not show button labels at the top. The second installation shows the buttons. The side button labels don't show in both attempts. Both times I did not install the two optional packages that come with the installer. To be exact, I downloaded the browser-only 3.0.1 version and initially installed only the browser and not the optional "Bonjour" service, or Apple Software Update. I later tried installing them as well. No change. Total of four reinstallations on XP and one on Vista.
The installer does not allow access to the Repair or Change options, which are greyed out; you can just Remove it.
When I click the bug icon, the whole application freezes but it creates a lot of disk thrashing and I had to use Task Manager to stop it. No easy way to report the bug.
Yes, I do know that on a virgin XP box, it might be wonderful but this is a real-world, stable PC. I am not writing a review, just playing with it.
On Vista, it works – I finally saw what all the blank spaces contained. 🙂
You can try your luck by downloading the beta browser at http://www.apple.com/safari/download/.