Does your social media expert use social media?
When I observe a random large company I sometimes see the work done by so-called social media experts. Most of Corporate Australia is trained to outsource most of its marketing and advertising work. Well-known digital agencies are always hiring experts to tap into this market. You can read about these comings and goings in B&T or Mumbrella.
Make no mistake, some of the ad agency work is brilliant – think of the TV commercials (TVCs) that you will remember for years. Some great slogans even enter the vocabulary. Branding campaigns, when they aren't memorable, are hard to analyse because there isn't any trackable element to most of them. However, many social media campaigns are tactical and need to be measured.
Large agencies are multi-headed, but nice Hydras. They consist of a number of companies in related disciplines, so it is too easy for the contracted incumbent to bring along their sister company experts to the table. The trouble is that the subject matter expert isn't necessarily the best you could find.
Oils ain't oils
I saw two contrasting pieces recently that inspired this post, both via LinkedIn.
The first post above is more insightful than it is amusing. It might be easy to dismiss it as another whinge at fake social media experts. Written by Ted Bauer of CliqueThru, it carries no judgment or link to an individual in Kentucky whose website carries a pretentious page that warns readers not to waste their time sending him inappropriate pitches. But it begs the obvious question – is your SM expert really an expert?
Example:
(some extract from "expert" page – omitted here to protect the guilty)

Translation:
I don't talk to anyone that I don't actively seek out. If Mark Zuckerberg or Bill Gates email me one more time, they're going on my spam list. Bastards just won't leave me alone.
However, Google makes it easy to discover who he is referring to. I check out this person. He fits the classic mould of the US self-promoter – speaks at conferences every other week, has a blog, is on Facebook, etc. Definitely SM expert material.
I check out his main site and am hit with this image prominently at the top left: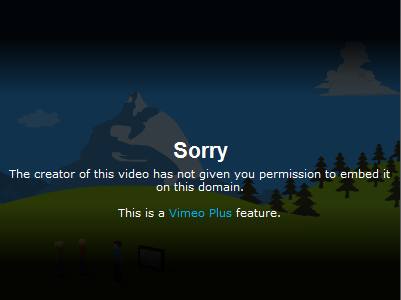 Uh oh, it is probably his own video but he didn't check the Vimeo rules. I hope he visits his own site now and then and fixes this.
I then try the link to his Facebook Page (aka fan page). It doesn't exist – I am redirected to the FB home page. No fans? Again, I hope he checks his FB page now and then. I'll leave this poor soul alone, as it's tough being on the expert speaker circuit and having a young family.
Real social media experts use social media – d'uh
The second link above from Community Engine is more uplifting.
It's not "just a job ad". It's one of several job ads from them, but they are all worth reading. Now I don't know a soul at that Sydney agency, but I am impressed. In case the ad disappears once the position is filled, I will copy a couple of bullet points here (emphasis mine):
Candidate must have extensive social media experience and actively participating in a wide variety of social media activities such as blogging, micro-blogging, community development and management, distribution of web and mobile applications, social bookmarking, commenting, etc. and is well-connected within the broader social media world. Additionally, the candidate must be able to think strategically to help big brands effectively navigate the social media landscape.
Most importantly, you need to be able to 'map and do'. That is you must be able to develop compelling social media strategies for clients and be willing and able to roll up your sleeves to help implement programs and get things done.
They don't mention forums, Usenet or newsgroups, but I am sure that such experience will count. Online social networks have existed since the early bulletin board systems (BBS) of the mid 1980s through the mid 1990s, but I doubt if there are many former BBS users still in the workforce.
Usenet and newsgroups? Again, there wouldn't be enough candidates who were Internet users in the late 1980s who discovered them at university, such as yours truly. The general public didn't have access until the mid 1990s and many didn't use those social networks back then. Even today, most people think that the Internet consists of the web and email.
Nevertheless, I'm pragmatic. Most agencies deal with young corporate marketers in their 20s to 30s, and to this group, social media equates to:
Facebook
Twitter
YouTube
(maybe) Foursquare
(possibly) forums
(probably) MySpace
(probably not) Digg
(probably not) StumbleUpon
etc
I suspect that typical tactical social media marketing (SMM) campaigns only reach the first three bullet points above.
Back to the Community Engine ad.
Not many people know that social media includes social networks, social bookmarking, blogs, micro blogs, communities (forums) and so on, but Community Engine does. They are making sure that they don't waste time with candidates whose SM space begins at FB and ends at Twitter.
Length, breadth, depth and currency
So how do you check whether your expert has experience across a breadth of social networks? Ask them for their user names if they are willing to reveal them. Here are some searches you can make (clickable links):
You can search for a user name or a full name at other sites using the site search box or their profile name, e.g. http://twitter.com/ashnallawalla. Google also lets you refine a search by date.When was their earliest activity?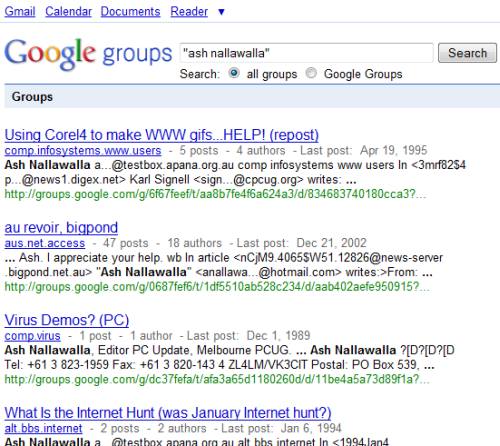 Twitter and Facebook didn't exist ten years ago, so don't go purely by length of usage. An active blogger with a weekly post for 12 months is better than someone whose Blogspot.com or Typepad blog hasn't been updated in four years. Currency of knowledge is important. Are they using Foursquare regularly? What badges do they have? If you are a mining company, then Foursquare might be inappropriate, but activity in environmental forums might be more suitable.
There isn't any prescribed pattern of usage that corresponds to expertise, but if they haven't used some service at all, they might not be best placed to recommend it for your needs.
Mapping the social media plan
The second bullet point in the job ad mentions the candidate's ability to 'map and do'. This is so important. Some agencies look for someone in their team who is an active user of Twitter or FB and make them the "expert". They might be aware of forums, for example, but haven't used them much, at least not in the client's niche.
I have seen a flaky campaign from an agency (that no longer exists) where "promotion" of the campaign micro site was made using fake forum profiles. In each case, the poster had a single post to their name and they dropped a URL in that first message. From the Omniture stats I could see that there were almost no visits from those forums. Luckily there was a PPC campaign in place and the site was found by many. SM #fail.
Regular participants in social networks get to know what is normal, what is genuine, and what is clearly fake. Unless you know a particular community, you can't assume that it is the same as others in your checklist. Some communities hate URL drops, some only allow them in signatures, and very few allow blatant advertising.
Some activities lend themselves to a multiplicity of social networking tools. Some products lend themselves readily to SM, while others not at all. A new flavour of chocolate is easier to promote than a cream for cold sores. Marketers need to understand such limitations before setting their own expectations and before talking to their consultant.
The plan
It is easy to prepare a (simplified) checklist of tasks such as the following:
Launch campaign micro site with FB Like and Twitter buttons
Go to five forums in the niche and leave a message
Send a few tweets from a special campaign Twitter account
Don't do that.
Unfortunately, some consultants with a goodly number of customers resort to an outsourced labour force, who were not present at the client brief. They rely on task checklists, and a list such as the above will seldom deliver results. A post with a link drop by a newbie account will surely be deleted (or ignored in forums where such posts are tolerated). The new Twitter account won't have many followers and unless they use a popular hashtag that is searched a lot, the tweets won't have much visibility.
A detailed plan is beyond the scope of this post, but it would be integrated with the overall marketing plan. It would include involving bloggers and Tweeters with some stature or with aged accounts and a reasonable existing audience.
Related Post
Update 26/8/10: I was alerted via the corporate Yammer grapevine about a similar post that was published a few days ago. Tim thinks like I do and has made some other good points

: