Doug Heil bans me from the ihelpyou forum – for life
While going through my unopened email from last month, the following text caught my eye:
You have received an infraction at SEO Best Practices Search Engine Forums.

Reason: Multiple Spammer

This infraction is worth 50 point(s) and may result in restricted access until it expires.  Serious infractions will never expire.

All the best,

SEO Best Practices Search Engine Forums

Again, please do not reply to this email. You must go to the following page to reply to this private message:

http://www.ihelpyou.com/forums/private.php
The forum name didn't ring any bells, but the link took me to Doug Heil's ihelpyou forum. I haven't been there for a long time, but I remember Doug as a rather vocal chap. I have never antagonised him AFAIK.
Anyway, I went to that link and was rewarded with the following greeting: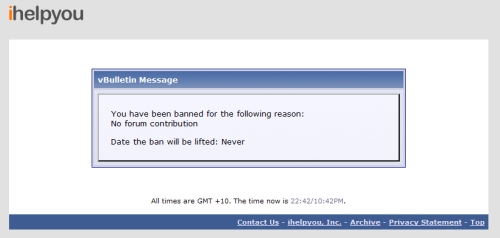 Fair cop, Doug; I didn't post at your forum for a long time, perhaps never. Nothing personal. I can barely find time to contribute to Webmasterworld, where I help to moderate a forum. I rarely post elsewhere. I don't mind the lifetime ban, as I'm getting on in years, anyway.
But why send me an email calling me a spammer? Honey works better than vinegar and I have gone back to forgotten forums when they sent a polite reminder.
Has anyone else received such an email from ihelpyou?