Edward Lewis Desphinns Sphinn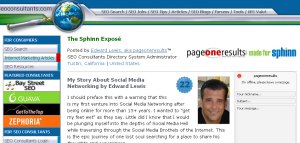 I should be in bed but I blame Edward Lewis for posting what must be the biggest expose since the Washington Post exposed Watergate:
In brief, Sphinn terminated his account for what appears to be his investigative work about Sphinn. I know very little about the daily operations of this search marketing industry counterpart to Digg, but I think they made a mistake in terminating his account. My reputation or livelihood does not depend on stories I sphinn or desphinn, but I visit it regularly to see what stories have received sufficient votes to be deemed really new and interesting.
Apparently there are a few individuals who game the system and spam it. Edward exposed some of them and exposed other chinks in the armour. I will read the long post later but I have seen enough to feel thoroughly entertained, but sad that Sphinn terminated his account. After reading it fully I will be in a better position to judge Sphinn, but my gut feeling is that they made a big mistake that will polarise the SEO community and affect Sphinn's reputation.
I have a lot of respect for Edward although I have never met him. He is a long-standing moderator at Webmasterworld and makes very knowledgeable posts. Take the time to read the Exposé.