Garmin nuvi 1390 GPS Review
The Garmin nüvi 1390 GPS is a slim, 4.3-inch screen beauty that is currently vying for my attention, but will I succumb to its electronic charms?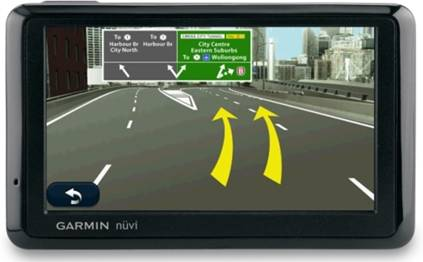 Features
4.3-inch touch screen
Whereis map
Bluetooth
Lane Assist
Spoken street names
Route Options
Junction View
ecoRoute
Traffic (1390T model, not tested)
Navigation
Includes a comparison with TomTom GO 730
I recently used and reviewed the TomTom GO 730 before trying the Garmin nuvi 1390. I also went to most of the same destinations in Melbourne as before, so I was able to compare the two devices.
The windscreen suction cup of the Garmin is excellent. It has a lever to manage the suction and the cup surface is soft and glossy, so the unit never fell off, unlike the TomTom (a few times). I always wipe the windscreen when I remove the holders before parking in public, so both devices had the same clean surface.
Being a perennial geek, I preferred the TomTom's eight screens of Settings and three levels of other menus. The Garmin has just two screens of Settings and far fewer options to fiddle with.
Just two main choices – a no brainer!
For example, the only audible alert you can select out of the box is Garmin Safety Cameras. A technophobe will be happier with the Garmin's controls – for example – its single Language menu shows three buttons for:
Voice Language
Text Language (affects displayed text only, not map data)
Keyboard Language
This approach avoids my initial problem with the TomTom where I chose US English for the device when setting it up initially and later chose UK English for the computer voice and wondered why I was hearing American terminology.
The computer voice sounds very human, so spoken street names are comprehensible. There was no spelling out of abbreviations such as W-B-N-D for Westbound. Roundabouts are called roundabouts.
nuvi 1390 keyboard
The keyboard is fine, but I didn't identify the pencil eraser to be the backspace key until I realised that the left arrow was a cursor-left key.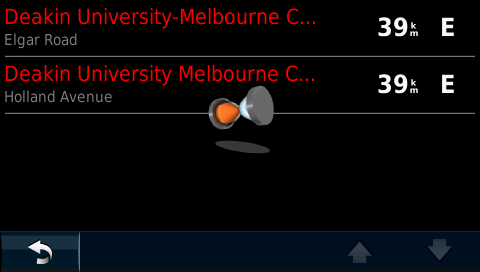 A typed POI takes forever to resolve.
A typed POI took forever to resolve and I gave up, preferring to select one of the available choices.
My favourite GPS stress test
Go 250 m and then make a U-turn!
The 1390 correctly guided me (coming from the city) to Deakin University (Burwood campus) and told me to turn left, not right, as was the case with the TomTom. However, I had barely entered the campus, when it told me to do a u-turn! At least this got me into the campus, not halfway across the tram tracks, as the TomTom wanted me to.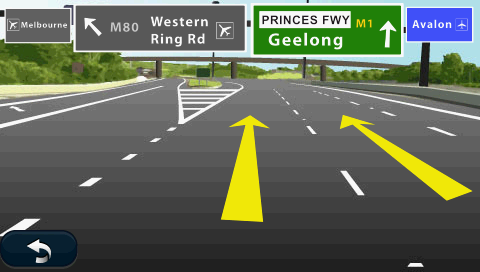 Advanced Lane Guidance consists of a photo-realistic image (not based on the actual landmark ahead) where the recommended lane signs are in colour and the others in grey.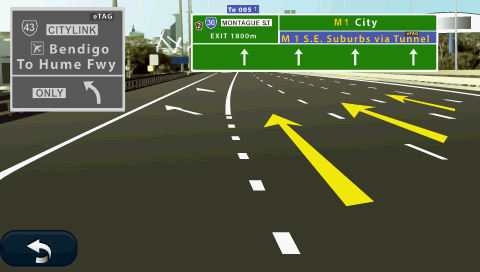 I found time to test the 1390 in other parts of Melbourne, from Cranbourne North through Geelong and Bacchus Marsh and points in-between. I was generally pleased with its guidance overall.
POIs
The POIs (Points of Interest) might disappoint. POIs are destinations you may wish to visit without knowing their precise address, e.g. Chadstone Shopping Centre, Melbourne University, Pharmacy, Restaurant, Movie Theatre, and so on.
The Garmin nuvi 1390 has a very American (not surprising) set of POIs. For example, the Food and Drink set has cuisines such as:
All Food
American
Asian
British Isles
Cafe or Diner
Deli or Bakery
Fast Food
French
German
International
Italian
Mexican
Other
Pizza
Seafood
Specialty Food Products
Steak or Grill
In my strongly Italian suburb the POIs show just two pizza outlets, one being Domino's. Among the rest in other suburbs, Domino's is the single predominant brand and barely a Pizza Hut in sight. (No sad loss, IMO, but that's beside the point). There are just four "American" restaurants in all of Melbourne: three are Chili's (I had no idea they had Chili's here) and one TGIF in Chapel St. "British Isles" means fish and chips stores! No chicken tikka masala? Fast Food hides the other pizza shops among the usual suspects.
Shopping includes Computer/Software but the closest ones look like private homes. The other annoyance is that the suburb is not shown, which becomes a problem once you go beyond your home suburb.
Computer stores in private homes?
An aside
I mentioned in my TomTom GO 730 review that my reference point for a car GPS is the Magellan Maestro 3225, a low-end device that I used for two weeks in the US. We needed to find a pharmacy near E. Sycamore Avenue, El Segundo (our motel) and the nearest one it found didn't exist at the stated address (230 S La Brea Ave, Inglewood). So we picked the next one (3331 W Century Blvd, Inglewood) and did our business there. On our way back to the motel, we saw a Walgreens less than a mile away (331 N Sepulveda Blvd, El Segundo) that wasn't in the Magellan's POIs. Annoying.
There are two reasons for the disappointing POIs:
The data supplier here is Yellow Pages® which certainly has all the pizza outlets in its collection, but since Garmin only features the "Pizza" heading, it only shows the businesses that chose to be in that heading. Many other pizza shops chose to be listed as Take Away Food, Restaurants, etc.
The problem with having POIs in any GPS is having enough internal storage space. The 2007-vintage Magellan has 2 GB internal storage with 795 MB free. The 2008 maps were more comprehensive, but I didn't have them.
Behaviour Modification
In the TomTom GO 730 review I complained about a recommended route for my daily commute to the Sensis HQ in Lonsdale St. I used to come along Footscray Road and turned left into Dudley St and kept going until I had to turn right at the Queen Victoria Market roundabout, then left up Lonsdale St.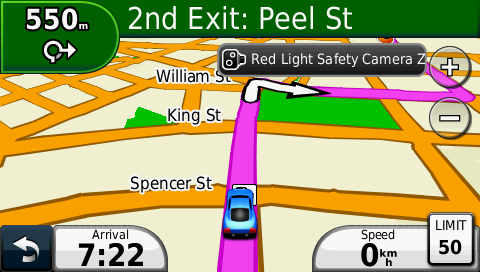 The nuvi 1390 (and the GO 730) recommends the following route: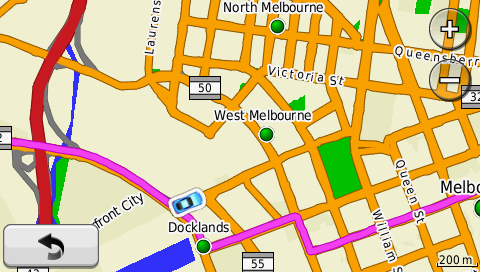 This route has me waiting for as much as 3 minutes at the Docklands Drive/Dudley St intersection (car on the map above) to go straight, then left at La Trobe St, right at Spencer St, then left up Lonsdale St. I had never tried that route because of the usual red light and reasoned that I'd be a fair way up Dudley St by the time it changed.
In the interests of fair reporting, I decided to try it and was pleasantly surprised. Yes, the longest wait at the light was 3 minutes, depending on traffic from the cross roads. The rest of this route is relatively a dream run. On the other hand, Dudley St inches along if there are some fruit trucks crawling uphill to the markets and you need your wits about you as there are a couple of sharp angles to manouevre.
I am happy to report that I have modified my driving behaviour and accepted the Garmin/TomTom/Whereis map recommendation as the better option.
Bluetooth
When paired with a mobile phone via Bluetooth, you can make hands-free phone calls to your contact list and to the POI phone numbers. You still have to tap the screen to receive a call, so the device could be out of reach in a large car if you like to stick it at the bottom of the windscreen.
Conclusion
Overall, the Garmin Nuvi 1390 is a delight to use. I would like a GPS to be a little of TomTom and a little of Garmin, but that's how it is with many things.