Google AdWords testing "Related To" feature
I haven't seen much discussion of this test, which was reported by TheSearchAgents back in June.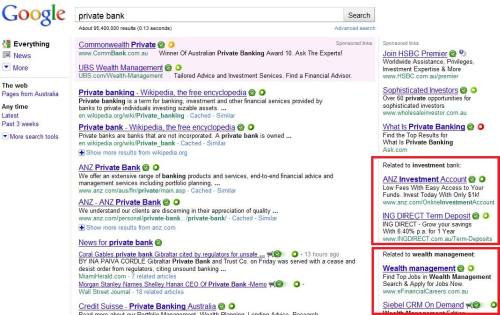 Google has been placing ads that are "related" to the query, I suspect, when there isn't enough ad inventory for the search term. I was looking for "private bank" and got ads related to "wealth management", "term deposit" and "investment account".
It doesn't always happen. I searched for "trucks" and got just four ads. "Bulldogs" got me none. The example used by Alec Green "facial at home" did bring up a "related to" ad for "facial mask".
I think it is a win-win situation for advertisers where there isn't enough ad inventory. I'm curious to see if this pops up where there is enough inventory but many ads with a low quality score.