Google Maps ranks rather high in AdWords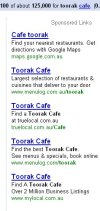 When you are trying to optimise your Google AdWords campaign so that your ads rank high for less money, you usually are sharpening your ad copy, improving your landing page, playing with the bid and so on. If you worked at Google Maps, you wouldn't need to work so hard.
At least in Australia if you search for <placename> <word>, e.g. Toorak dentist, Werribee cafe, Narre Warren restaurant, the first (almost always) AdWords result is an ad for Google Maps.
You can see this in the image on the right. Another interesting discovery are the two Menulog ads – one is the gTLD .com and the other is the ccTLD .com.au. Nice technique to remember if you need to display more than one ad. Just buy a few ccTLDs, since the algo won't know if the various domain names in different "countries" are the same entity.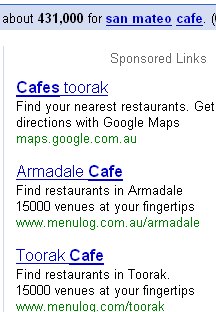 My next search was for a cafe in my old stomping ground, San Mateo, CA. Both Google and MenuLog were confused (click image on the left). I wasn't logged in, but both remembered my previous search. Google Search showed the right results, but AdWords didn't want me to leave these shores, choosing to show me an ad for Toorak cafes, and Menulog.com.au hedged its bets by showing me an ad for Armadale cafes, and Menulog.com showed me Toorak cafes. OK, these are broad match ads for the word "cafe", but why show an irrelevant city in the wrong country? Since Google isn't paying for its top-ranking ads, I think it could have shown a PSA or none at all.
Yes, cafes are in a tough category for AdWords. Either you phrase match <placename> <cafe> for thousands of placenames (not practical) or load a whole bunch of negative keywords (not practical) — I'd rather not see this prime position taken up by Google Maps ads at all. You can see these ads for many location searches,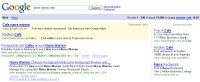 such as dentists, restaurants, etc.
eBay can't handle the place name Narre Warren, a Melbourne suburb. Search for Narre -Warren (that's a negative Warren) and eBay will exhort you to buy a Barre, whatever that is. MyLocal gets too familiar — look for Narre Warren cafe and it will tell you to go to Narre Restaurant. Local search doesn't seem easy for some companies. TrueLocal still wants me to go to the solitary cafe in Redfern. Menulog wants me to go to Barre, WA – apparently there is a cafe/restaurant of this name in Perth.