Google Trends for Websites
Google Trends has been with us for a couple of years and it remains (for me) an interesting curiosity to be revisited from time to time. After all, it is still in the Google Labs and has enough disclaimers surrounding the validity of its data that it might as well be Alexa. I have access to actual traffic data for some large sites and I know that Google's data is as flawed as any other third party's can be. All the same, for many people, such a resource is better than none. As long as you don't use traffic numbers but only look at the trend, you will be fine.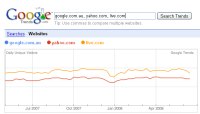 On Saturday (US Friday), Google Labs released Google Trends for Websites, which enables us to compare the traffic to one or more domain names, separated with a comma. You also get geographical breakdowns such as countries and states, a list of similar sites, and related keyphrases. Not surprisingly, you can't get data for any Google-owned properties such as Google.com (click the image on the right), Orkut, etc, but you can for Google's competitors.  Some people are irked by this, but you can always look for such data at Alexa, Comscore, Hitwise, etc.
Barry Schwartz over at SearchEngineLand is happy to see Google Trends for Websites. He relates Matt Cutts' experience of looking for a file sharing service similar to yousendit.com. He was able to discover other companies such as sendthisfile.com, mailbigfile.com, etc.
Buggy
I noticed that such a search doesn't work when looking at data from Australia, as the results were quite off-topic. For a larger country such as the UK, the results are barely useful, as they included just mailbigfile.com. Even for the United States, most of the sites were off-topic. You should sign in to see and export additional Trends data. At the bottom of the page you will notice an option to export the data as a CSV file.