GTrends free tool finds keyphrases with low competition
I attended an informative talk by Glen Staiger about his experience with the "30 Day Challenge", which included a mention of the free Wordtracker tool known as GTrends. It is a keyphrase competitiveness research tool, which is an extension of the free Wordtracker search tool.
My friend had blogged about Iron Maiden's videos taken during their recent Indian tour and this had swelled his visitor count (briefly) by a huge number that I won't reveal. So I used some Iron Maiden related phrases to test GTrends.
To check any keyphrase, type it in the Keyword field and look at the results: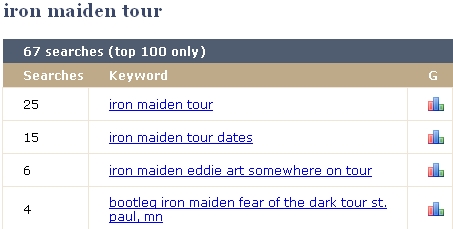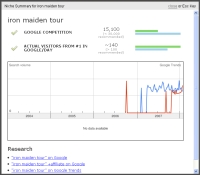 Click the bar graph icon on the right of any keyphrase and you will get a popup like the image to the right (click it to enlarge). If both bars (representing Google Competition – the number of results is less than 30k – and the number of Google visitors per day is more than 140) are green, then this is a keyphrase worthy of more research.
Now the count for Iron Maiden Tour in the popup is a lot more than 25, which I can't explain, but I created a small blog to monitor its traffic. The above is the only link I am giving it, although it might attract one or two from elsewhere as I populate the blog later on. Check out the free tool!