IBP and ARELIS 9 Business – Review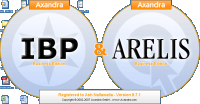 Axandra has combined two programs into one interface. Internet Business Promoter (IBP) and Axandra Reciprocal Link Solution (ARELIS) are two programs of value to website owners who want to improve their ranking in the major search engines. They are available in Standard (one domain name) and Business (multiple domain names) editions. If you want to run a search engine optimisation or online marketing advisory business, you would use the Business edition to sell professional-looking reports to website owners. You would recoup your investment within 1-2 sales. If you were interested in affiliate marketing, it would be invaluable to improve the return on investment from your own Web site.
ARELIS
ARELIS is the smaller program and is used for managing a site's reciprocal links, link management and link popularity. A reciprocal link exists where Site A links to Site B and vice versa. In recent months, it has become essential to know a good reciprocal link from a bad one, so you can either leave this to a competent search engine optimiser (SEO) or learn how to do it yourself. Google engineer Matt Cutts has said that only excessive linking is a problem, (without defining what number is excessive).
ARELIS comes with a 116-page PDF book titled "How to Get High Quality Inbound Links For Your Website Success". It has sound advice on how to get the right type of links and how they affect your ranking.
It enables you to submit your site to:
Directories
Search engines
Special interest sites
You can find potential link partners by listing your competitors and the program goes off and sees who is linking to them. The ARELIS submission interface has a wealth of information that enables you to decide which links are worth getting, such as their Google PageRank, Alexa TrafficRank, and so on. You can also use it to keep track of requested links and whether they were approved.
Since most submission sites use "captcha" images to deter automated submissions, you get a small browser window to type anything the program cannot fill with the pre-filled data.
IBP 9
Getting Competitor Keywords
I chose a keyphrase (Google calls them keywords, even if they are phrases) of interest, "seo training". Within 2 minutes, IBP found 50 competitor URLs, representing about 40 Web sites. One click and 30 seconds later, IBP visited those sites and extracted 28,129 keywords for consideration. By default only the ones that were mentioned more than 40 times (and as many as 1528 times) were already selected. I could deselect them if I wished, or I could choose to select those containing 1-4 words.
Making Search-Engine-Friendly Pages
This is the feature that makes money for SEOs and marketing consultants. The Top 10 Web Page Optimiser report compares your site's content for one keyword against the top 10 ranking sites. It generates a long (depends on content, but 47 pages in one test) report that covers numerous parts of a page. It lists what it sees on your page and then compares it with that the top 10 sites are displaying for the same item. They include:
Report Overview
Document Title
Meta Keywords
Meta Description
Body Text
Body Text In Bold Type Face
First Sentence of the Body Text
URL
H1 Headline Text
H2 Headline Text
Same Site Link Text
Outbound Link Text
Same Site Link URLs
Outbound Link URLs
Image Alt Attributes
HTML Comment Tags
General Advice
The report can be viewed or saved as HTML, Word, plain text or Adobe Acrobat PDF format. SEO firms take the Word version and add their own comments. Such reports are then sold for as much as $495.
The Top 10 Inbound Link Optimiser solves the other half of the SEO puzzle – getting the best incoming links for your site. Again, the links to the top 10 ranking sites are analysed and you can see whether a particular type of link helped them.
IBP has many other minor features of value to search engine optimisers and site owners.
Recommendation
I have not tried the two main competitive products WebCEO and SEO Elite, but when I first bought this program for my last employer, it was the best on paper. Subsequently I confirmed that it was well worth the price, as it earnt my employer many thousands of Dollars. I also use it in my own SEO training business to illustrate many concepts to the students and, of course, to speed up research on my own sites. IBP, after all, does everything you could do manually, but it saves many hours per task. That is the real saving, even if you don't sell these reports for a living.
Availability
You can order IBP with ARELIS 9 from http://www.Axandra.com. The Standard edition sells for US$249.95 and the Business edition sells for US$449.95.
About the Author
Ash Nallawalla operates his own SEO training company and has practised SEO professionally since 2002.