Is Foursquare coming or going?
I saw a retweet of this tweet by @codelust: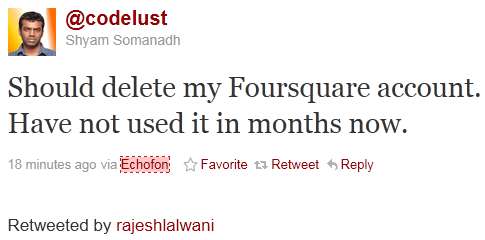 I don't want to focus on the Indian tweeter, who later tweeted that he quit Facebook in 2010, but it got me thinking again about Foursquare. A few people I know who are active on Twitter and FB don't bother with Foursquare.
These small samples are meaningless, so I took a peek via Google Insights for Search.
I had to add "-church" as a negative term because there is a Foursquare Church, which is probably unrelated to social media, but it had the highest number of searches in the list below (before I excluded it).
It is worth going to Google Insights to check the interest in Foursquare over time. In 2009, most of the interest was in North America. In mid-2010, Australia and China showed interest, but Indonesia had the most interest. In early 2011, Russia showed interest. In mid 2011, Indonesia appeared to lose interest.
Google Insights does not purport to be very accurate, but these movements in search interest are interesting, particularly the rising trend line in the graph above.
It's pretty obvious what Google Trends for Websites shows. There is a downturn in visits since March this year.

The countries sending the most traffic to Foursquare are:
U.S.
Japan
Indonesia
Brazil
Thailand
Malaysia
United Kingdom
Germany
Netherlands
Spain
I check-in most working days when I am in the city and notice that there is growing takeup by businesses offering specials. It's still early days in Australia, but it doesn't seem to have taken off in India and China, if the Google data is accurate.