Link Juice iPhone App Has Potential
I saw a tweet from @Dixon_Jones:
New Link analysis app for the iphone! http://r3.ms/2o Very cool. has majesticseo moz and semrush data.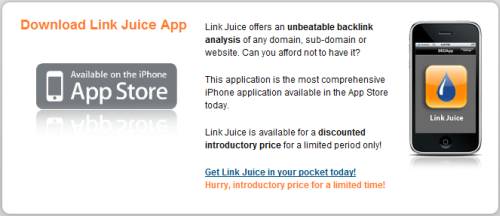 I bought it for $2.49 and checked it out. I entered my URL and pressed Done.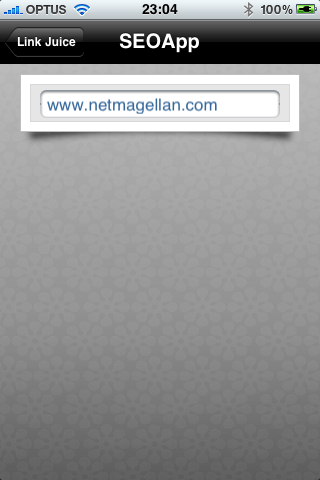 Waiting, waiting. Oh, there's a Link Juice button up there. Does it take me to the beginning? Try it.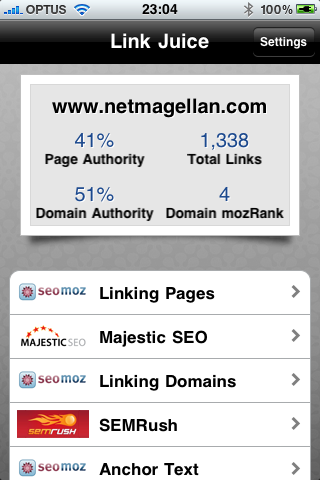 Success. The numbers in the top box are not clickable. OK, let's try the links below. The first one I try is SEMRush.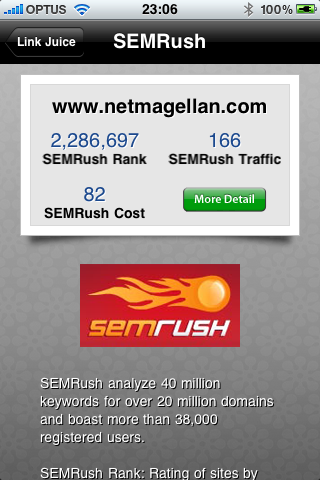 Let's try another one. SEOmoz Linking Domains: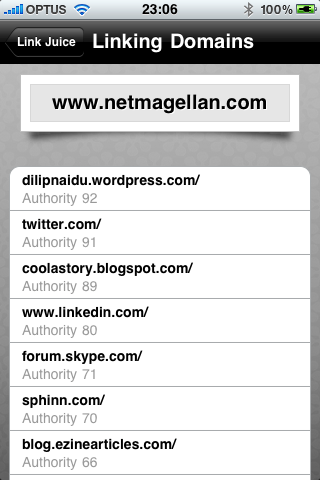 Hmm. Let's try MajesticSEO: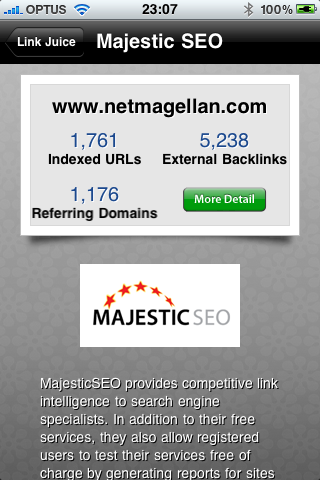 Hmm, I need More Details, and there's a handy green button. Let's see where it takes us: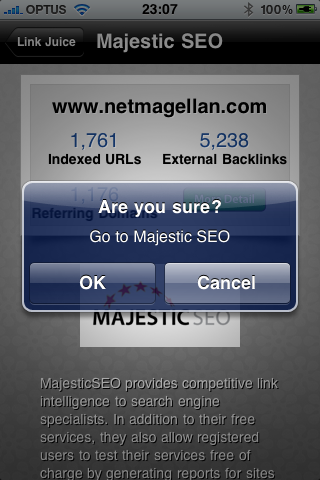 Oh, it needs permission. OK: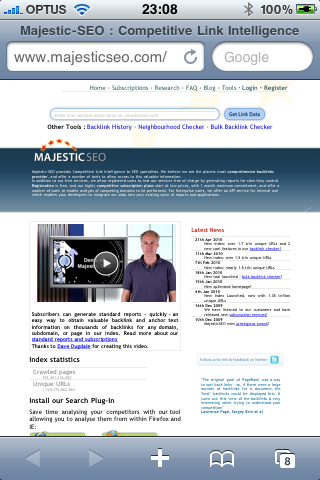 Now I'm annoyed. This isn't "more detail" about the link stats I was looking at but the app was closed and I am now in the browser looking at a non-mobile web page that has to be enlarged to be legible and it doesn't even have my URL preloaded, waiting to be clicked.
The SEOmoz information is fairly detailed, but the MajesticSEO and SEMRush data is minimal – just three values from MajesticSEO:
Indexed URLs
External Backlinks
Referring Domains
and three from SEMRush:
SEMRush Rank
SEMRush Traffic
SEMRush Cost
I can't say I recall hearing about SEMRush before and it hasn't heard of my site, as it estimates my traffic to be 166 visitors per month.
Verdict
This is Version 1.0 and I am underwhelmed. I can imagine an SEO using this app while visitng a client but it isn't something I'd be using in a coffee shop or in the crapper. It has the feel of a lead generator for SEMRush and MajesticSEO and not a good one at that, since we don't get a mobile site in the browser.
Given the name of the app, Link Juice, I can't see how the SEMRush data has anything to do with links. The SEOmoz data seems to come from Open Site Explorer, which is worth a visit in a desktop browser or a mobile browser if that's all you've got. MajesticSEO is also well worth a visit with a desktop browser.
But the app has potential, i.e. provide more detail, or a connection with LinkDiagnosis.com.