Most external drives prone to failure owing to heating?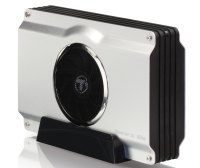 So says a press release from Transcend, announcing the new StoreJet 35 Ultra, an actively cooled eSATA external hard drive. Of course, you would say that if you were flogging an actively cooled drive. I have about six external drives and none have cooked themselves to death so far.
All the same, the StoreJet 35 Ultra has attractive specs. It measures 197.5mm by 127.5mm by 48mm and comes in an aluminium case that takes a 3.5-inch SATA hard drive. There are two connection options: A 3.0Gb/s eSATA interface and a 480Mb/s USB 2.0 interface.
What does active cooling mean? For this unit, it means an extra-quiet 80mm high-flow fan that cools the hard drive. It also comes bundled with StoreJet elite software, which offers intelligent backup scheduling, security, and file compression.
The Transcend StoreJet 35 Ultra supports all commonly used operating systems, including Windows 2000 / XP / Vista, Apple Mac and Linux . You can buy it with either a pre-installed 500 GB SATA hard drive, or you can buy just the enclosure and add your own 3.5-inch drive.