Now Google demotes overstock.com
Recently, I wrote about Google demoting JC Penney for getting links from dubious places. Now it has demoted Overstock.com for getting links from very prestigious websites – .edu to be precise.
Amir Efrati writes in The Wall Street Journal:
Google Inc. is penalizing Overstock.com Inc. in its search results after the retailer ran afoul of Google policies that prohibit companies from artificially boosting their ranking in the Internet giant's search engine.
and
The incident, according to Overstock, stemmed in part from its practice of encouraging websites of colleges and universities to post links to Overstock pages so that students and faculty could receive discounts on the shopping site.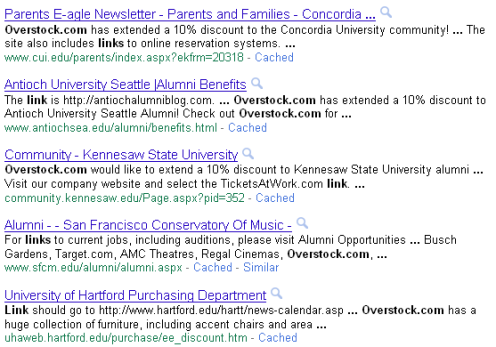 Seattle Pacific University is one of those sites with keyword anchor text links to overstock.com: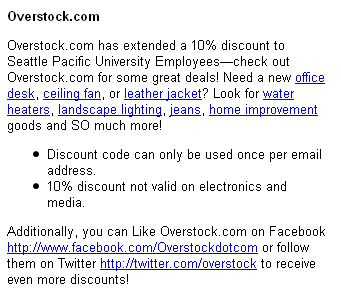 Offering discounts to staff and students is an old tactic for getting links from .edu sites but this is a blatant example of anchor text links. The penalty has been a massive demotion in rankings. "Bunk Beds" is not even in the first 100 results now.
Why?
Wait a minute. This case is quite different from the JC Penney one, where the anchor-text links came from no-value sites. There is no suggestion that Overstock paid for such links, even though it might have paid for SEO advice. Companies have been offering discounts to university staff and students for decades, although the anchor text links sound like special instructions were given.
The WSJ article makes no mention of the thread started 12 days ago by a newcomer to Webmasterworld Overstock.com's Google Rankings – any ideas on what they did? The other curiosity is that Google was only too happy to comment on the JC Penney incident, but not in this case. Could JC Penney's alleged monthly AdWords spend of $2.46M have some bearing on this?
Anchor text links are suddenly bad?
For many years websites have offered cut-and-paste HTML code to anyone willing to link to them. Could Google devalue anchor text links, particularly those on otherwise respectable sites? Could someone contemplate the logic that a university has no reason to link to a commercial website using product oriented anchor text?
It could, but this might lead to less relevant results. It doesn't make sense. I think that overstock's rankings will reappear quietly in the near future.