Place Search – local search results on Google will never be the same again
The official Google blog has just announced the rolling out of the new-look local search results, known as Place Search. Here is an example: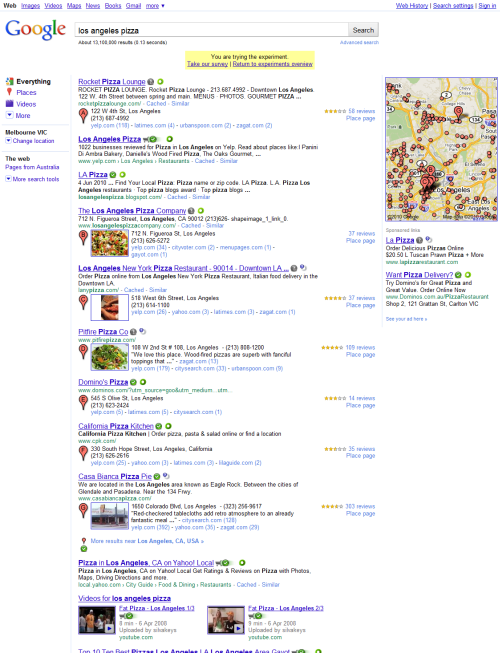 URL for above search: http://www.google.com.au/search?num=20&hl=en&newwindow=1&esrch=LocalMergeImpl%3A%3AExperiment&q=los+angeles+pizza&aq=f&aqi=g10&aql=&oq=&gs_rfai=
The Google blog says:
Today we're introducing Place Search, a new kind of local search result that organizes the world's information around places. We've clustered search results around specific locations so you can more easily make comparisons and decide where to go.

…

The new results are marked with red pins, and each one is a unique restaurant with relevant information and links from across the web.

…

With Place Search, we're dynamically connecting hundreds of millions of websites with more than 50 million real-world locations. We automatically identify when sites are talking about physical places and cluster links even when they don't provide addresses and use different names ("stubb's bbq" is the same as "stubbs bar-b-que").

One of the great things about our approach is that it makes it easier to find a comprehensive view of each place. In our new layout you'll find many more relevant links on a single results page—often 30 or 40.
This will change the business model of some SEOs (I noticed that a quick-thinking local SEO company grabbed placesearch.com.au – well done, E!). It won't be a 7 pack anymore – it could be a 30-pack, a 50 pack or a 100 pack.  It will take a few days to see this locally in your country. If you are eager to see a preview, Google has provided a URL, which you can modify to your liking. See below the image above for an example.
More Yellow Pages® advertisers will get exposure for a single local search – good news for Sensis, the official Australian supplier of data to Google.
Stepped 7-pack
I also noted a new kind of 7-pack with indented results: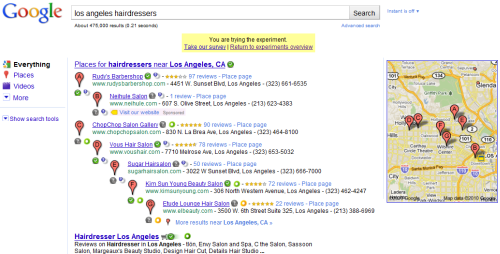 This result was seen while still in the experimental view. Try it.