Pubcon 2007: Coffee with Matt Cutts
On Day 3, there was an early session with Matt Cutts in the hot chair. Matt said that when he was at university (in 1999) in North Carolina, he took a course on search engines and after applying to Google, he asked how much they would pay him. He then thought he might not hear from them, but they did, and the rest is history.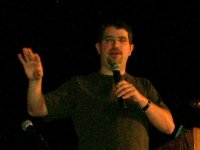 Matt was asked to explain about linking to a bad neighbourhood when you don't know if it is bad. He said you needed to trust your instinct and if in doubt, use a nofollow link.
On paid links, Matt gave the example of a site with an article about Alzheimer's Disease that linked to some organisation that wanted money from you instead of giving you information. This was a flag for a paid link, whereas the expected link should have gone to some authority information site. This is why all the search engines are clamping down on paid links and paid blog posts.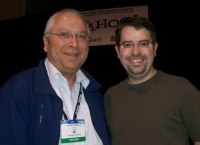 Google recently bought g.cn as it is short and easy to type for Chinese who cannot remember the word "Google". He sees a lot of English-language spam on .cn domains where the backlinks come from Japan. This is clearly unnatural and flags a paid-link alert. You can buy a .cn domain for as little as 15 cents, so spammers are flocking there and getting backlinks from almost every country, which is also unnatural.
Matt was asked about sites sharing the same IP address, such as on a virtual private server (VPS). He said that spammers drop an IP address when it has been banned, but the new occupant need not worry. When a whole subnet in a C class is doing strange things, only then do innocent sites have something to worry about.
What about ACAP (Automated Content Access Protocol) used by newspapers to make articles available only to subscribers after a certain period? This is a very recent initiative that extends the robots exclusion protocol, so Matt is still studying it and doesn't anticipate any issues for SEO.
How many 301 redirects can a site have? There is no limit. You can change them after two weeks if you wish, with no harmful effect, but don't chain 301s in a loop.
Not surprisingly, someone asked about paid links and what was the borderline. Matt replied that if a link passes PageRank, it can come under suspicion. If a link manipulates search results, it is suspicious. But aren't AdWords paid links? No – they do not pass PageRank, so they are not.
What is the best way to migrate a site to a new IP address?
1. Lower your DNS time-to-live (TTL) to something like 5 minutes and leave it like this for a day.
2. Bring up the site on the new IP address and wait a day or two.
3. Drop the files on the old IP address once you see Googlebot crawling the new address.
How can we report a scraper? This happens with AdSense sites. You should use the link in "Ads by Google" to report such a publisher by filling out a spam report.
How about directories that charge for a link? There is a detailed Googlewebmastercentral blog post about paid directories. Signs of a directory to avoid? No contact information, private registration, poor data in whois, expired domain redirected to the directory site, uncustomised phpLD script, requires a reciprocal list or takes only paid submissions, no quality links.
Should we buy a site with existing (good) links? No, they will not help with ranking.