Pubcon 2007: Keynote by Craig Newmark of craigslist.com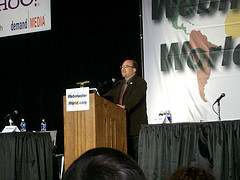 Craig Newmark was the keynote speaker at the Webmasterworld Conference. Craig is a modest man who started Craigslist while he worked for Charles Schwab in 1994. By 1995, it was a Unix Pine based cc mailing list about San Francisco. It started with restaurant recommendations, then classifieds and job ads. At this stage, Craig wore a pocket protector and had tape on his glasses – he is a self-confessed nerd. The list moved to the Majordomo platform and when it came to giving it a name, he chose the informal name that its users were already calling it – Craig's List.
In 1998 he tried forming a non-profit structure and tried charging for ads. This was a failure. By now the system was running Sun Solaris.
In 1999 he started the incorporation of Craigslist and hired Jim Buckmaster, the current CEO. The code was re-written in Perl and moved to Linux servers. Email harvesters started stealing addresses, so he wrote the current email options (hide or reveal) code in two days.
Today, Craigslist has a paid model in 11 cities for job ads and apartment ads in New York city. Each month, 9 million pages are served by 120 generic Linux servers that run Apache, MySQL and Perl. 80 more servers will be added soon and the site will be split over two hosting locations. The email still uses Pine.
Craig realised that his people skills are not the best, so he only handles customer service today and is not part of the management team. In spite of many offers, Craig has no intention of selling. Only 1% of the site generates revenue. His philosopy is simple: if you trust your community, they will respond in a trusting way.