Reputation Trend added to Google Maps – significance to Yellow Pages publishers
Thanks to a post by Tom Crandall in Smallbiz Central, I was alerted to yet another addition to Google Maps Place Pages.  For certain listings that have a rating and review at Judy's Book, a new field entitled Reputation Trend is shown, with a value of "Reputation Trend" (I presume this will eventually show an actual number), which links to the same business on judysbook.com.

Being do-follows, Judy's Book  might be thrilled by these links, although I don't believe that they count for PR.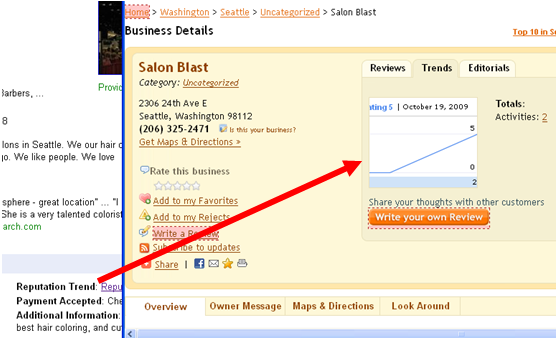 In my studies of IYP rankings, judysbook.com has never rated anywhere for organic SEO. However, they seem to have a band of loyal users who help to create user-generated content by way of reviews and ratings. This is the only site I know of that uses a reputation trend chart to plot the average rating over time.
Other Yellow Pages sites (particularly ones not chosen to power Google Place Pages) should appreciate how this differentiator has allowed Judy's Book to get a piece of the traffic pie.