Review: Brother MFC-235C Printer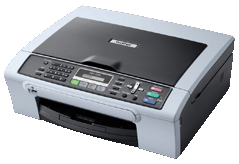 I prefer to use a product for a while before writing a review — my Brother MFC-235C is over six months old, but it's still on the store shelves. As it wasn't supplied by Brother PR but paid for from my own pocket, I was in no hurry to write it up.
My previous printer was an HP OfficeJet that was bought in 2000 and it was showing no signs of dying. However, it was incompatible with Windows Vista and therefore would be unusable with Windows 7, which I hope to use. Its third cartridge in nine years (I am a light printer user at home) was about to run out and would probably cost more than a new inkjet. When I bought my new desktop PC, I realised that one doesn't get a printer port anymore unless you specify it as an add-on card. That was enough for me to rush back to the mall and buy a Brother this time.
Why Brother? I had bought my wife a cheap Brother HL-2040 laser printer last year to go with her Vista notebook and was comfortable with its performance to break my 20-year "habit" of buying only HP scanners and printers. That printer is now in the kids' study while my wife has an HP inkjet which I might review some day.
Brother MFC-235C
The multi-function centre (MFC) has six main functions:
Colour inkjet printer
Colour copier
B&W fax send/receive
PC fax
Scanner
Pictbridge camera printing
In Use
Setting up the device was the usual procedure – get rid of the packaging, load the starter ink cartridges, then install the software before connecting your PC to the device. I liked one feature – being able to set the fax to manual, so that I didn't accept spam faxes. I keep forgetting to set it, so I get one or two each month.
The printer takes four individual colour cartridges – Black LC37BK, Yellow LC37Y, Cyan LC37C, and Magenta LC37M – a welcome change from some of my earlier HP printers where running out of a single colour caused you to replace the single colour cartridge.
The software is MFL-Pro Suite. You can optionally install scanning and OCR software for either Windows 2000/XP/Vista or Macintosh OSX 10.2.4 or higher. The scanner resolution is only 600×2400 dpi, so don't plan on archiving your family photos with this feature. (Other Brother models have better scanning resolution).
You can add an external answering machine or a telephone. This means you only need one telephone socket at the wall; one wire from this socket to the device and one more wire to the telephone. The LCD panel and buttons enable you to customise the device.
This is not the time to discover (as I did) that the device does not come with a USB cable – typical these days. I borrowed one from the family and it took them days to figure out why they could not print.

So how does it perform? Not much to say, in fact – it just works. Clean printouts, acceptable scans, good fax send/receive. No paper jams so far. I'm quite happy to recommend it.
Details: http://tr.im/mfc235c