Memories are made by the Canon HV20 – Review by Ash Nallawalla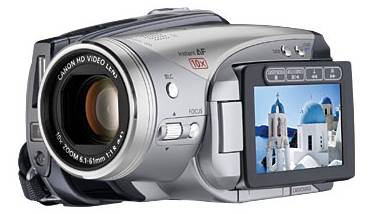 The Canon HV20 is one of the new breed of high definition, digital video (HDV) cameras to hit the market. This is my fourth camcorder and the second digital one. My first one, a Panasonic in 1981 weighed 20 kg including its charger – my entire baggage allowance when I bought it in Singapore, only to find, upon arrival in India, that it was faulty.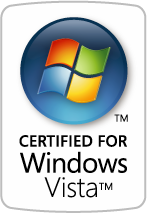 Like most palm-sized cameras, it is light-weight and, thankfully, assisted with a super-range optical image stabiliser (OIS). The "super range" bit means it also compensates for the small tremors caused by breathing and swaying hands.
Windows Vista Certified
Readers of my earlier comments or reviews of Windows Vista might recall my frustration with the latter's incompatibility with my old printers, so I have henceforth looked for the "Certified for Windows Vista" logo on anything that could be associated with my computers.
Vista users can transfer, edit and publish high-definition video without the need for special software – Windows Movie Maker (WMM) works fine for the home user. My unit shipped with a pre-Vista version of Canon's ZoomBrowser EX software, so I had to get the updater (5.8b at the time of writing). For my level of use, WMM will suffice.
You can shoot in high definition Cinema Mode with 24 fps progressive (24p) or just HDV 16:9 widescreen mode. You can also shoot in standard definition, 16:9 or 4:3 modes. If you are stuck with your last tape, you can use Long Play and get an extra 50% recording capacity.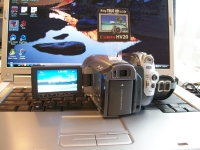 You can take still photos at 3.1 MP, which is fine for small prints, or at 2 MP while shooting video. A built-in flash helps in poor light. The accessory shoe suits external microphones or lighting to be mounted there and powered through the battery (or charger).
What You Get
Battery (7.4 V, 1200 mAh/LiIon)
Charger
Cables (A/V, Component, USB)
Wireless remote controller
CD (Windows and Mac) with software and manual
What You Don't Get
Neck strap
IEEE 1391 cable (FireWire)
Mini SD card
Separate charger
Blank miniDV tape
Specifications
10x optical zoom, 400x digital zoom
2.96 Megapixel CMOS image sensor (1920×1080)
DIGIC DVII image processor
24p (NTSC); 25p (PAL) Cinema Mode, HD and Standard Definition recording modes
miniDV tape storage medium
1080i HDV
Price: NTSC model HV20A US$1099 ESP; PAL model HV20E AU$1999 RRP – street price ~US$950, ~AU$1600.
Amazon link: Canon HV20 and accessories
In Use
I like to use the viewfinder more than the LCD panel (which is incredibly sharp), so the dioptic adjustment was appreciated. The LCD also does the job of displaying various settings. I also like the fact that it uses DV tape and not a hard drive, which would need to be emptied once it filled up. That would entail carrying a laptop computer, or one of those storage devices made for that purpose when away from home.
Windows Movie Maker in Vista
I have Windows Vista Ultimate running on my desktop, which now has a FireWire (IEEE 1391) card to facilitate a video transfer. The OS no trouble detecting the card and the latter happily saw the Canon HV20 when it was plugged in with the FireWire cable.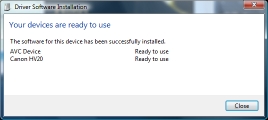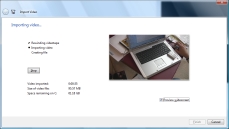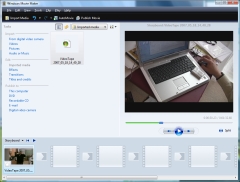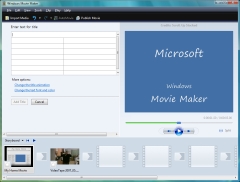 As the pictures indicate, Windows Movie Maker makes it easy to edit video from the Canon HV20. The supplied Canon Zoombrowser EX enables further modification to the video and many other features that apply to Canon's still cameras. Here are a couple of screen shots of Zoombrowser EX 5.8b: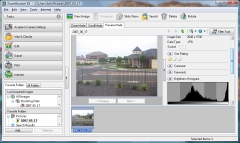 Annoyances
My main gripe is the absence of a FireWire cable and a Mini SD card. For some reason (possibly the firewall, but I didn't see a message to that effect), the computer wouldn't see the camera because the only Mini SD card I happened to have was from a phone and it was formatted differently. This came up as an error and I had visions of shipping the camera back to Canon. I bought a new card and everything was sweet after that. Had Canon managed to engineer the HV20 for a normal sized SD card, I'd be operational sooner.
Similarly, a FireWire card was in my son's Windows XP PC, so moving it to my Vista desktop was a pain. I have more RCA A/V cables than devices so I didn't need another one, but an extra FireWire cable would have been handy.
My earlier cameras came with a separate charger, so you could charge a spare battery during some family occasion, such as a wedding. It was a pain to pack the charger, so it's a mixed blessing that the HV20 acts as a charger and you connect it to the power pack. You just cannot charge a second battery without buying a separate charger. As a product marketer I can see my Canon counterpart's stroke of genius there. I speculate that he might have owned an iPod.
Memories
When my children were born (1988/1991), I had analogue camcorders and so those early taped memories are as fuzzy as the 8 mm home movies of my parents' generation. My first digital camera gave me the power to edit my family travels on my PC and they are quite sharp when they aren't shaky. We have a high-definition home theatre setup and digital TV/satellite TV, so the home-made videos look shocking on a 9-foot screen.
The Canon HV20 now solves that problem. The kids are still at home and our next family videos will capture their memories in high definition. I am very pleased with this camera, which will get fully exercised on a round-the-world trip I am making shortly.