SEO for the Android Market
It's obvious that the designers of Android Market website have given no consideration for SEO. Check for yourself:
Page Titles
Most of the page titles are unimaginatively useless "Android Market". The Meta Descriptions nearly all say "Browse and search for applications on Android Market and publish your own."
Source
Look at the source code of http://www.android.com/market/paid.html. All the crucial content is in the JavaScript. Turn off JavaScript and reload the page.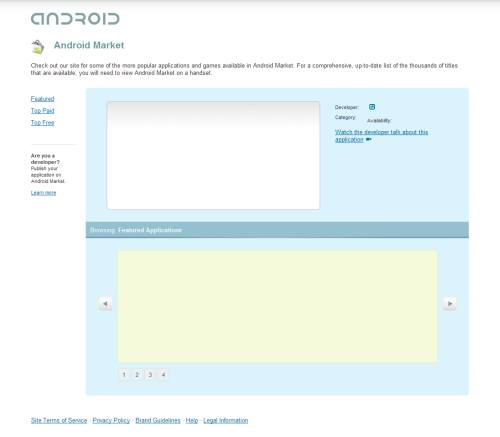 Presumably, one of the site's design goals seems to be that search engines are to play no part in helping customers find Android apps through this site. The pages say "For a comprehensive, up-to-date list of the thousands of titles that are available, you will need to view Android Market on a handset." For most customers on a timed plan, this means more money for the carrier.
I can't believe that a web designer in 2010 is this clueless about SEO, so this has got to be a deliberate decision. Android developers, optimising your own websites is your only option.