SpeedPPC 3 secret feature revealed
I don't know why this had to be a secret, but the RTM version of SpeedPPC3 adds support for a raft of other PPC ad networks. (For those of you in the advertising industry but who never actually use the damn technology, substitute "SEM" for "PPC" and it will make more sense).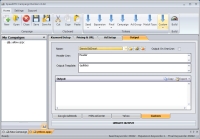 Jay Stockwell's SpeedPPC 3 now supports 11 known ad networks (I can't call the additional eight "well-known".):
ABCSearch
Affiliate Radar
Ask
Enhance
GoClick
Google AdWords
LookSmart
Miva
MSN adCenter
Yahoo! Search Marketing
Search123
ValidClick
Actually, SpeedPPC 3 now handles 12 or more ad networks – It will support any other service that can accept a file upload. Now there is a fourth tab marked "Custom", which covers the minor 8 players plus any Custom ones you want to process.
For example, I created one for Sensis BidSmart and the settings were saved for future use. Such configuration details are appended at the end of the CustomOutputs.xml file. Get your copy of SpeedPPC here.