SpeedPPC 3 Review
by Ash Nallawalla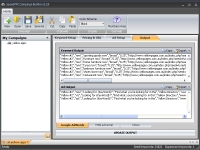 When I first read the description of SpeedPPC and saw the price of $497, my immediate thought was that this product was too cheap. I had seen an online service that charges a relatively higher, recurring fee to do what SpeedPPC 3 does for a one-time fee. I nearly told SpeedPPC creator Jay Stockwell that he is nuts – actually I met him at Pubcon 2007 and I suggested more diplomatically that he should check out what the competition is charging for less functionality. He gave me a sneak peek at the beta version 3, which is still being polished as we speak. Here is my report.
By now you must be wondering what the hell is SpeedPPC and do you care about it. If you do not use pay-per-click (PPC*) ads to advertise on Google AdWords, Yahoo! Search Marketing or Microsoft adCenter, then you won't care about the rest of this review.
* which Google misleadingly refers to as "SEM" although SEM includes SEO, but that's another story.
What Is SpeedPPC?
SpeedPPC is both a system and a methodology. It is not a single program but a set of Windows program, website templates and PHP scripts.
Dynamic Creatives
SpeedPPC takes your list of keyphrases (Google calls them keywords) and enables you to multiply them into additional combinations, e.g. "dentist" can be combined with a list of suburbs, e.g. "dentist richmond", "dentist kew" and so on. This known as the "dual core" method. You can specify different bids for Exact, Phrase and Broad Match. SpeedPPC also creates the creatives, which are the actual ads you see on the ad network and their partner sites.
You can upload the creatives and the keywords with their bids using the Google AdWords Editor. The SpeedPPC campaign builder will also build your Microsoft adCenter campaigns, but you'll need to use their online interface to add them (via a bulk upload CSV file).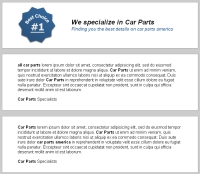 The next important feature is that you can create a unique landing page that uses each keyphrase prominently. This keeps the Google Quality Score as high as possible, which gives you the cheapest cost per click. This feature is not entirely in the SpeedPPC package as such, but in a separately downloadable PHP script and matching templates. You install the script and it gives you a custom page for each keyword.
For example, to create the templated landing page at left, you embed the HTML inside the supplied PHP script, then you call it from the ad network's Destination URL with a call such as:
http://www.example.com/template-speedppc.php?seed=Car-Parts&expansion=all-car-parts&final=car-parts-america
Click the above image to see where the above variables end up in the template.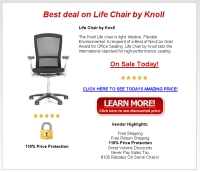 A closely related feature is the Affiliate datafeed landing page creator. This enables you to have a unique keyword and landing page pair per product in the datafeed (see image to the right) – affiliate heaven!
You upload the supplied script and make a MySQL database on your Linux server and follow the simple instructions to upload your datafeed file.
A fine set of narrated videos help you to understand the product very quickly. PDF manuals are also provided.
What's New?
The first thing you notice about SpeedPPC 3 is the completely changed interface.
The next feature I noticed is that I could load a campaign of over 30,000 keywords, whereas the first release was limited to 1900. The next improvement is the speed! With the old version, processing 1900 keywords took more than 30 minutes and it was not advisable to load large campaigns. This version pumps out the 30,000 keywords in as little as three minutes! You should not normally need to run such large campaigns, but I was trying to test its limits.
Yahoo! Search Marketing support is now included, which will please many advertisers who run campaigns on Yahoo. Microsoft adCenter support is still present, so all the three biggies have been covered.
Advanced Ad Building enables you to mixmaster your headlines, description lines and display URLs. SpeedPPC will build text ads that represent every permutation of these.
We all need to copy ads and modify them. Now you can copy them from one box to another with the click of a button.
The Keyword Library enables you to reuse the same keyword lists for new campaigns. The benefits are obvious.
You can clean up keywords, say, by removing invalid characters or extra spaces. For experienced users, there is an option to remove all spaces between keyphrases, which results in joined words. Why would you want this, you may well ask. Some people accidentally run two words together in a search query and if you target competitive niches such as debt consolidation, this little trick could get you a few cheap clicks.
The My Campaigns panel displays all your SpeedPPC projects in one window even if they are stored in different directories on the PC. This is useful if you need to organise your PC to suit campaigns or different clients, instead of having to place all of them in one directory.
Certain tasks such as Excel export can take a few minutes to complete, but you can open a fresh instance of SpeedPPC and build a new campaign simultaneously. No more coffee breaks for the staff!
You can export your campaign in CSV format and now in Excel too.
The status bar shows the total quantity of seed and expansion keywords
Conclusion
SpeedPPC 3 is a powerful tool for PPC advertisers, particularly those with thousands of keywords and who are targeting multiple locations for each keyword. Although there are many free tools to mix keywords with another variable, they don't address the tricky issue of building unique landing pages for each unique keyword. Not only will this improve the Google Quality Score, it will be a better user experience and, therefore, it should lead to more conversions. If you are a regular PPC advertiser, you should grab a copy before Jay wakes up and raises the price.
Product home page: www.speedppc.com