Starbucks India doesn't get social media
Armaan Kapur is a 21-yo writer in New Delhi who did something that many middle-class Indians do — try to go to Starbucks India (Link to Facebook page) in Connaught Place, New Delhi. In Australia, you don't normally admit that you drink that brand of coffee, and most of their outlets were closed down (Link to an ABC article) in 2008. So what went wrong?
Like I said, Armaan tried to go to Starbucks, but he didn't get inside. There was a queue outside (yes, brand-conscious Indians like to be seen in such places) and there were two bouncers to keep this well-heeled crowd in check. At this point it is best to read his own description of the incident. (Link to image of deleted Facebook post).
Summary: He was trying to join a friend who was inside and had two seats reserved for him. Bouncer tells him to move on and refuses to turn around to look at the friend inside. A Tata (franchise holder) employee turns up and tells him not to make a ruckus.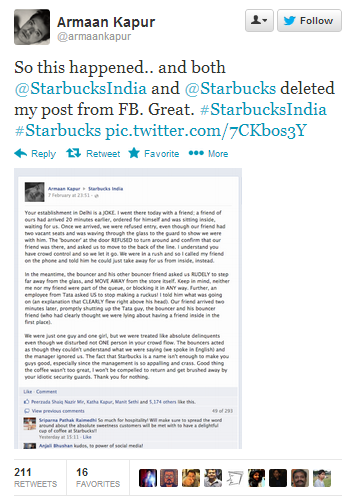 Apology?
The Facebook complaint attracted a lot of shares and likes, so it was mysteriously deleted, but Starbucks India allegedly denied it in rather ungrammatical English (anyone surprised?). A few readers of the incident have taken Starbucks India to task (see the FB posts by others) and these posts have NOT been removed as yet.
The New Delhi outlet tracked down Armaan Kapur and invited him to the store for a profuse apology and free coffees. However, as Starbucks India feigns ignorance about deleting the post, the incident has left a bitter taste in Armaan's mouth.
The lesson
It would seem that the wealthy Tata group has not invested in some good social media training for its community managers. I can refer them to an excellent company in New Delhi that can help them (I have no pecuniary interest in the matter.)