TomTom GO 730 Review
One of my employer Sensis's other business units is Whereis.com, which supplies maps to some big GPS vendors such as Garmin, TomTom and Hewlett-Packard. I have been thinking of buying one for a while, as I am doing a lot of "Dad's taxi" duties in unexplored parts of Melbourne.
Last Christmas our family drove around California and Nevada. My Nokia N95's GPS was not up to the task (without the turn-by-turn guidance option), so a friend gifted me a Magellan Maestro 3225 that I absolutely swear by, despite its being a very basic model. I have used only Magellan NeverLost units in Hertz rental cars for the past nine years, so I am comfortable with the guidance given by Magellan devices. For better or worse, that is my benchmark.
So I borrowed this TomTom Go 730 and gave it a road test for a couple of weeks. It comes with a desk stand that is powered by a USB cable connected to your PC. This enables you to manage it with the PC application known as TomTom Home. You also get a windscreen suction cup mount (that sticks most of the time) and a cigarette lighter charging cable.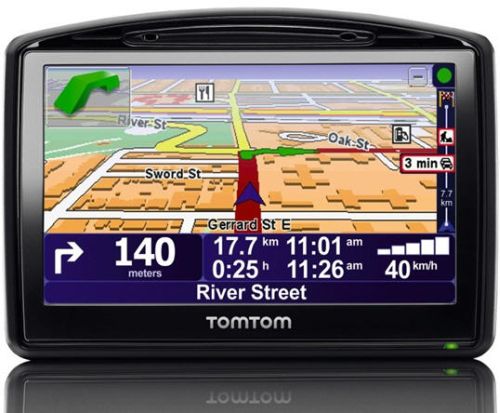 The device sells for between AU$443 – AU$648 in Australia and US$180 (used) – US$350 in the US. You only get one national map with it, i.e. Australia for us.
User Interface
The touch-screen 4.3-inch display works well with a light tap. No concerns there. The bottom of the screen below an active route map contains the vital information – lane guidance, distance to next turn, time and distance to destination, actual speed relative to the last known speed for the road. If an optional traffic receiver is purchased, you also get some more recent information to the right.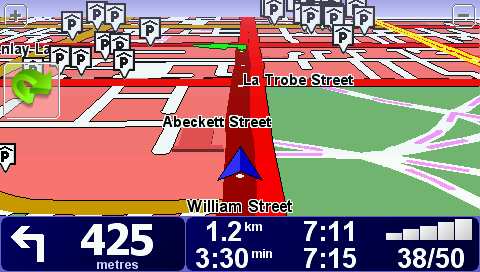 Many undercover car parks in Melbourne CBD.
Features
Maps provided by Sensis Whereis
Text-to-speech (aka spoken street names)
FM transmitter
MP3 player
Bluetooth
Map Share
IQ Routes
The Bluetooth function works with my Nokia phone but I was expecting the FM transmitter to relay the sound to the car FM radio. That is not the case. The transmitter is for you to play MP3s over the car sound system. I can't imagine many people would bother to load an SD card for this purpose. Most people wishing to do this probably own an FM transmitter or cassette tape adapter, while some modern cars provide such a cable for your player. Somehow, I also expected the FM transmitter to work over my preferred radio station, to interrupt the music when a phone call came in or when the GPS felt compelled to speak. No such luck. You have to choose a vacant frequency for it and listen to your own MP3s. No problems here for me, as I leave the radio on low volume and let the GPS compete with it when it talks.
At one time, the transmitter also sent the navigation instructions to the radio, but this feature was disabled in early 2009.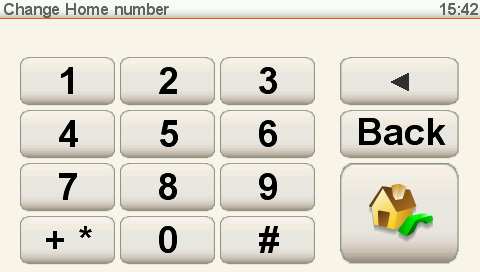 You can set your home telephone number and make it a convenient button.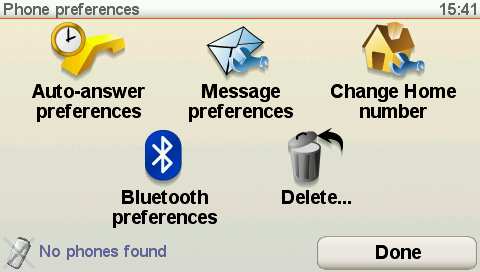 As can be expected, you can change many preferences for the mobile phone such as auto-answer, since you don't want to lean forward to press the "Take this call" button.
Voices
The device talks to you in several languages, including Australian, New Zealand, USA and UK flavours of English in male or female variants. You also get a computer voice – also known as "Spoken Street Names" or text-to-speech (TTS) in UK English.
I had to rewrite this section because I had unfairly maligned the device for mixing US English and UK English words. When I set up the device I had chosen US English as the language of the device, but this is separate from the voice preference. Therefore, I was baffled when the UK English computer voice referred to roundabouts as rotaries, when parts of the US also call them roundabouts or traffic circles. Three weeks later, I read some discussions about this oddity and learnt how to fix my error. It would be better if Australian units came with the most likely settings already enabled for this country – or the software determined that from the map coordinates.
I found the male Australian voice too slow for my patience as I don't live in Queensland (ducks), so I tried the male New Zealand one, being a dual citizen of Aotearoa and Oz. It knew motorways but not freeways.
I didn't mind the TTS synthesiser voice even though it mispronounced some "easy" location and street names – the Magellan had this problem too in the US and I believe this is a universal problem with TTS. It could pronounce "Somerville Road" correctly, but it said "Werribee" as "Werrib" and "Geelong" as "Geelo". I can get used to these quirks, for the added benefit of spoken street names, which are not available if you choose the human voices.
And if you don't like any of the supplied voices, you can record your own 57 words and phrases!
Colours
The maps can be displayed in Day or Night colours. If you don't like the included choices, you can download others from places such as the TomTom Forum.
Alerts
I advise against turning on all Point of Interest (POI) displays, as they can fill up the display to the extent that you can't see the map underneath. You don't really want to turn on an audible alert for these POIs otherwise you will get a constant stream of beeps as you approach each POI.
Downtown Melbourne is full of two-bit colleges and the alerts drove me batty. I had turned them on because I thought I'd be warned about school zones.Just turn them on as you need them.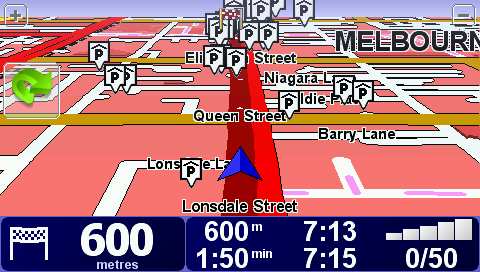 (As an aside, I wonder if there are GPSs that change the speed warning to 40 km/h at school zones during the nominated time ranges.)
Safety Preferences
You can turn on safety features such as driving break reminders, driving faster than the speed limit, and so on.
Navigation
Getting you from A to B is the main role of any car GPS. The GO 730 is fine for that most of the time. I liked it when I was stuck in traffic and it piped up, "Arrival time 7:12 am. You are still on the quickest route." I also like the absence of nagging when I deviate from the recommended route. My Magellan tells me loudly, "recalculating route", whereas the TomTom silently adjusts to the new location and keeps working.
The IQ Routes feature apparently takes real user data to find the "smartest" route, which means the quickest. I usually travel along Footscray Road, turn left at Dudley St, then right at Vic Markets on William St, then left up Lonsdale St as per the following map from Whereis.com:

The guidance given by Whereis.com and by the GO 930 is as follows:

This route appears to be faster because it is a wider road or the bridge over the railway line is faster to traverse (50 km/h on the bridge vs 60 km/h on Dudley St can't be faster) than the road below the railway line at Dudley St. However, getting to the bottom of La Trobe St from Footscray Rd is often a long traffic light cycle, when I could be almost at Spencer St if I went up Dudley St. Perhaps my travels will eventually get noted by IQ Routes (or I will continue to take the non-recommended route.)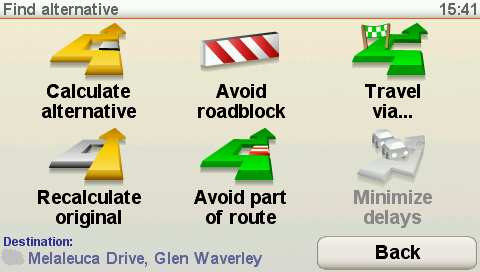 You can adjust the calculated route, although you'd want to be stationary at the time. New laws are coming into force soon, which will make it more expensive if caught adjusting a GPS while driving.
Map Share enables you to accept corrections and updates made by users and you can choose from a range of accuracies, e.g. "TomTom verified" through to "Everything".
There are some more anomalies:
Some POIs are misplaced. For me a regular destination is Deakin University, Burwood Campus (approaching from the Monash Freeway side). When it comes into view on the left, the device tells me to turn right.
Usually a turn left/right voice alert is on time, that is, gives me enough time to react. Sometimes it comes too late. I have another infrequent destination in Glen Waverley that I always seem to miss and the turn alert happens too late. It's a left turn fairly soon after you exit the freeway. This could be dangerous if I slammed on the brakes – I once had to detour several kilometres because I missed my turn.
Sometimes the computer voice can distract until you get used to it. It spells out some words in a sentence such as "s-t-a-t-e route 22" (a numbered state highway) and "continue on the Princes Freeway w-b-n-d" (westbound). Why?
The Route Planner (web app in beta) does not recognise any Australian address I tried, so it's useless for us for the time being.
You can buy a new map once a year but it seems that people just buy a new unit every two or three years.
Conclusion
I enjoyed using the TomTom GO 730 for three weeks and would be happy to use it in my car. Compared to my benchmark, the Magellan, this is clearly the superior device (but I did say that the Maestro 3225 is a very basic model).
I will soon check out a Garmin nuvi 1390 and an HP Ipaq unit, so let's see which one I like the most. Although there are many sub-$150 devices on the market, particularly during a sale, you don't get the cooler features until you look at pricier models. Isn't that true of most gadgets?