Twitter: Sorry, that page doesn't exist!
For nearly a week I could not get anything out of the Twitter website, i.e. http://twitter.com. I tried to click the links of people who were following me, but without fail, Twitter kept responding, "Sorry, that page doesn't exist!". It didn't matter if I tried the handles of some famous people — they all did not exist. An appeal to @twitter fell on deaf ears: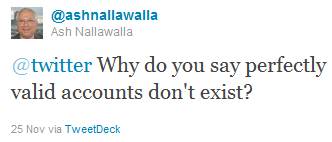 I don't think @twitter has the capability of responding to individual tweets. Finally I made a determined search for the answer. A plausible answer that kept coming up was to flush the DNS cache. This is how you do it in Windows 7: Start > Run > cmd > ipconfig / flushdns Next, I emptied my cookies and cache. Made no difference to my problem.
Change your browser
Finally, I switched from my default browser Firefox 8.0.1 to Chrome 15.0.874.121 m. That was the answer — now Twitter knows any valid handle I want to check. It isn't the best solution, because I like a few add-ons for Firefox that don't exist in Chrome. Perhaps FF 8.0.1 broke something; who knows. I will make do with Chrome for Twitter for the time being.
Update: 12 January
Firefox 9.0.1 seems to have no trouble connecting with Twitter successfully, but fingers and toes crossed.