U3 Smart
by Ash Nallawalla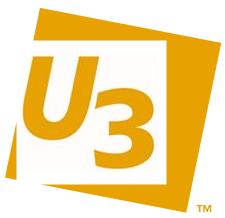 U3 is an initiative of SanDisk and msystems. They transformed USB flash drives from simple storage devices into USB smart drives that people can use not only to carry data, but include password protection, anti-virus software and the ability to launch popular Windows applications on any PC wherever they went.
U3 Smart drives solve a common problem – when you use a new computer or borrow one, it does not have your familiar programs, files and browser bookmarks and preferences. U3 drives contain special versions of popular programs and make it feasible to use other computers without being tied to yours.
How It Works
When you insert a U3 enabled drive into a USB port, a U3 icon appears in the System Tray. You can click it to launch the U3 Launchpad, which is similar to the Windows XP Start button. This designates the USB drive as a U3 Smart Drive.
U3 Smart drives are available from several manufacturers, including:
SanDisk
Kingston
Memorex
Verbatim
You can run the supplied programs, or download more from http://software.u3.com. Many are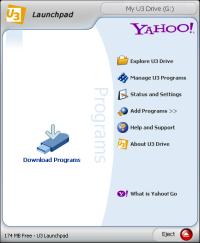 free, some are not.
Some of the more interesting free U3 programs include:
Open Office application
Mozilla Firefox browser
Avast! Antivirus
Sudoku game
Opera browser
Mozilla Thunderbird email
Skype Internet phone
Trillian instant message manager
You get to use your own desktop wallpaper and familiar icons when using a borrowed PC. You are not hampered by the lack of administrator privileges on that PC because your portable applications are already on your U3 drive. This is great for backpackers and other travellers who don't need to take a laptop PC with them.
There is a strong U3 developer community, which is releasing new, compact versions of popular desktop software. For more information, see http://www.u3.com.
You cannot install regular PC programs such as Microsoft Office on a U3 device because desktop programs require much more space than the U3 drive can offer and they need to write some information to the PC's Registry. Here is an informative video:
[youtube width="425″ height="335″]http://www.youtube.com/watch?v=CZN99pgivUM[/youtube]