Unhappy with Cheetah Wireless Internet in Las Vegas
I was one of many who signed up for the special pricing for a Clear 4G/3G USB modem during Pubcon. Cheetah Wireless Technologies Inc (CWTI) has offered this during a few events in the past and they also offer wireless coverage to Las Vegas residents and businesses.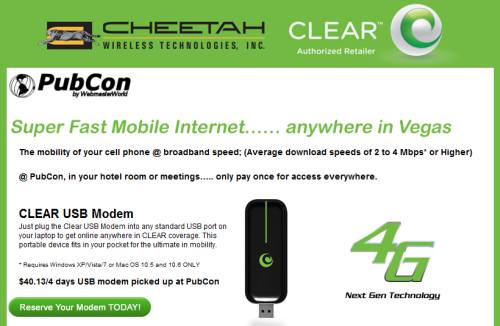 I used it at the official Pubcon hotel, the Wynn, mostly in my room (number 3365), which faced the Strip. I didn't need it much at the LVCC, since the conference provided WiFi as well. Reception at best was poor, about two dots on the special login tool that you install on the PC. However, last Wednesday evening (Nov 10, 2010), I could simply not hold the connection and couldn't check my email.

If you have been to Vegas for a conference, you know that you don't have much time to sit at your computer at night, hence I didn't sign up for the hotel's Internet offering. When I mentioned the problem to the CWTI staff member at the LVCC/Pubcon counter on Thursday, he said, "Yes, there was a problem with a wireless device at the Wynn". There was no offer to compensate and I didn't press the point, since I had better things to do at the conference, which was winding up.
However, I consult in online reputation management and so here I am. 🙂
I lost a customer owing to that because they filed a PayPal complaint for non-delivery (of my training package) and I didn't know about it until I flew home on the Friday, reaching home two days later. That's another story.
Technology fails, particularly when it comes to 3G/4G service. There are dead spots, particularly in the US, compared to Australia. Hence this is more about customer service than Clear's reliability. Should you use Clear or CWTI? That's up to you, as many others have had a good experience in the past. For me, my next rental in the US would be the hotel's wired Internet at a slightly higher daily rate, or I might try one of the prepaid wireless devices.