Webmasterworld conference day 2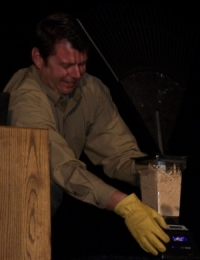 Day Two of the Webmasterworld was keynoted by George Wright of Blendtec, better known for the viral video series Will It Blend?. George gave an entertaining presentation about how BlendTec achieved millions of visits (therefore, brand awareness) with a budget of only $50.
When George was new at the company, he noticed piles of sawdust in their demo room and was told that the founder, Tom Dickson, liked to test new components by blending wood and that this was normal. George immediately saw the viral marketing potential and asked Tom for a marketing budget. Tom generously suggested $50, which turned out to be just right.
George bought a lab coat, some marbles, a McDonald's Happy Meal, a rotisserie chicken, and so on. Each of them was blended by Tom and the video of each experiment was placed on YouTube with some Digg publicity. Some 75 such videos have been released, including some resulting from viewer suggestions.
This fantastic viral marketing campaign has resulted in:
65 million views on YouTube (34th most subscribed channel)
120 million views on the willitblend.com site
200,000 subscribers
700% increase in retail product sales and a pull-through effect on B2B product lines
Great brand awareness, including a mention in US Congress
BlendTec has no need to spend money on traditional advertising. In fact, a radio station in New Mexico pays them to make blend videos, then shows them on local TV as commercials for their blend of music – this must be the only marketing department that generates revenue!
Analytics Vendors and Package Implementation
Brett Crosby, Richard Zwicky, Jamie Smith
moderator: Melanie Mitchell
Local and Mobile Search
Shailesh Bhat, Alex Porter, Chris Zaharias, Gregory Markel
moderator: Andy Beal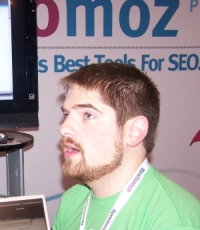 Brand Management
Brian Combs, Lauren Vaccarello, Tony Wright, Jessica L Bowman
moderator: Joe Laratro
Brian Combs is an SVP and Chief Futurist at Apogee Search. His message was that reputation is best protected before a problem occurs. It gets harder once the mud starts flying. Precautions you can take include:
Monitoring online conversations
Using consistent language
Create and propagate several websites for your company.
If the problem has arisen, then you should engage with the aggrieved person in a professional, non-defensive manner. Learn to recognise trolls and avoid them.
Set up multiple sites for products, perhaps a microsite for a problem that has gained widespread attention and encourage traffic to it (rather than your main site). Encourage positive articles on third-party sites. This does not mean pay-to-blog posts, editing Wikipedia, Googlebombing or other deceptive tactics!
Webhosting Industry Overview
Aaron Phillips, Ben Fisher, Amy Armitage, (Curtis) R. Curtis
moderator: Aaron Shear
Real-World Winning Tactics for Content Creation
Rupali Shah, Robin Liss, Ted Ulle
moderator: Derrick Wheeler
Interactive Site Reviews: Focus – Social Media
Brent Csutoras, Tamar Weinberg, Bill Hartzer, Michael Gray
moderator: Todd Malicoat
SEO Design and Organic Site Structure
Mark Jackson, Lyndsay Walker Blahut, Aaron Wall, Alan K'necht
moderator: Todd Friesen
How SMBs Can Use PR Campaigns To Grow Traffic
Lisa Buyer, Robin Liss, Greg Jarboe, Jiyan Wei
moderator: Michael McDonald
Competitive Intelligence : Know Thy Competitor Well
Jake Baillie, Andy Beal, Larry Mersman, William Atchison
moderator: Bruce Clay
Andy Beal described a lot of useful websites that you can leverage to spy on your competitors:
domaintools.com
ranks.nl/tools/spider.html
siteexplorer.search.yahoo.com
seomoz.org/tools
soloseo.com/tools/indexRank.html
copernic.com
technorati.com
google.com/alerts
searchanalytics.compete.com
touchgraph.com
google.brand.edgar-online.com
seekingalpha.com/transcripts/
google.com/patents
Oodle.com
For more information, visit RadicallyTransparent and trackur.com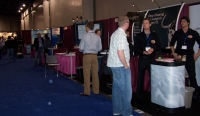 The Big Dedicated Server Payoff
Alexander Barbara, Jeremy Wright, David Driskill
moderator: Roger B. Dooley
Ground-Up SEO Content Development as Pure Business Strategy
Heather Lloyd-Martin, Matt Tuens
moderator: Gillian Muessig
Interactive Site Reviews: Focus on Brand and Social Reputation Management
Brian Combs, Tony Wright, Geoff Livingston, Bill Hartzer
moderator: Alex Bennert
SEO and Big Search
Melanie Mitchell, Dave Roth, Maile Ohye, Derrick Wheeler
moderator: Joseph Morin
Alternative Discovery and SEO – Feeds, PDFs, and Blog SEO
Rick Klau, Stephan Spencer, George Aspland, Greg Jarboe
moderator: Joe Laratro
George Aspland talked about optimising PDFs to facilitate alternative discovery. For example, some PDFs consist of scanned documents and we know that search engines can't read images. Their representation in a SERP can also get screwy. In the US government site shown, each page in the document showed up in the snippet as Page 1, Page 2, etc.
The first heading in the document may get picked up as the "title tag" of the search result, so pay attention to it. Better still, use the Document Title of the PDF to advantage. If you use Microsoft Word to create the PDF, you need to select File/Properties to find the dialog box. If you left it blank, the document title might read "Microsoft Word", which isn't very click-worthy.
Hyperlinks in the PDF should be enabled and have good anchor text. The PDF itself should be linked from an already indexed page.
You should invest in a copy of the full Adobe Acrobat so that you can edit the PDF that was created by some simple program or Office 2007.
George has a great PDF about PDFs at his blog: http://www.evisionsem.com/blog
Reputation Monitoring and Management
Jessica Berlin, Andy Beal, Lee Odden
moderator: Todd Friesen
Hosting Issues and SEO/SEM
(Curtis) R. Curtis, Jake Baillie, Jordan Kasteler, Scott Hendison
moderator: Jake Baillie
Scott Hendison from SearchCommander gave some practical checklists to use before buying hosting. By asking such questions, you can save yourself a lot of bother later on.
What Apache software is in use?
What control panel is offered?
What, if any, mods are installed?
How are mods used and used, e.g. via .htaccess? php.ini? http:conf?
Is shell access available?
Speed and performance?
Effective Action-Based Copywriting
Brian Clark (regrettably unable to attend), Heather Lloyd-Martin, Jill Whalen
moderator: Carolyn Shelby
Interactive Site Reviews: Focus on Organic
Andy Langton, Stoney deGeyter, Robert Charlton, Brant Bukowsky
moderator: Michael Bonfils
International and European Site Optimisation
Michael Bonfils, Andy Atkins-Krueger, Ralf Schwoebel, Frank Watson
moderator: Dixon Jones
Local Search Optimisation
David Klein, Joe Laratro, William Leake, Justin Sanger
moderator: Larry Mersman
Conversation and Word-of-Mouth Marketing
Todd Parsons, Louise Rijk, Ben Fisher
moderator: Mark Jackson
How To Move Your Website Without Chaos
Jake Baillie, Andy Langton, Guillaume Bouchard, Ralf Schwoebel
moderator: Jake Baillie
Interactive Site Reviews: Focus on Links
Rae Hoffman, Roger Montti, Rebecca Kelley
moderator: Rae Hoffman
Increase Your Post-Click Conversion Performance
Glenn Alsup, Philippe Lang, Alex Porter
moderator: Alex Bennert
The Secret Life of On-Site Search Exposed!
Laura Dansbury, Marc Cull, William Leake
moderator: Jessica L Bowman
Five Bloggers and a Microphone – What's The Worst That Can Happen?
Andy Beal, Lee Odden, Michael McDonald, Barry Schwartz, Jane Copland
moderator: Ken Jurina
Web Services and Cloud Computing
Mike Culver, Microsoft Representative, Jeff Hardy, Kevin Gough
moderator: Jake Baillie
26 Steps Revisited – 2008
Brett Tabke
moderator: Brett Tabke
Interactive Site Reviews: Focus on Organic
Brian Clark, Heather Lloyd-Martin, Jill Whalen, Jeremiah Andrick
moderator: Heather Lloyd-Martin