WebProNews launches a rather ordinary directory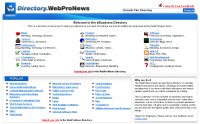 In what must be an unintended way to piss off readers who happen to own directories or other websites, WebProNews has launched its own eBusiness Directory. In a newsletter article entitled, "Some Directories Are Still Useful", writer Chris Crum opines,
A web directory should be just that. A directory. A directory is meant to be helpful for finding information. Unfortunately, that's just not the case with many of the directories that are out there on the web. The vast majority are just endless pits of links with maybe some good ones, but they are usually thrown in with less than stellar ones, which tend to be quite prevalent.

Human-edited directories tend to be more useful, but are still usually aimed more at the submitter promoting their business than they really are towards the user who is there to find information. Often times these directories offer paid links, further proving that they are really there for promotional purposes.
Take a moment to explore the nascent WebProNews eBusiness Directory. What do you think of the sites in it? These are early days, so we don't know if the humans at WebProNews will list "only sites that we feel will be truly beneficial to you – the user". For good measure, Crum adds, "We are dedicated to keeping this thing as useful as possible, and not cluttered with a bunch of junk."
I submitted two sites: this blog and my SEO Training site. I looked for accepted submissions and found one for my friend's company. The description reads
Search engine optimization company based in New York & India. 24 hours Support. Cost $11 – $15 / Hour. Get a Free SEO report worth US $150. Apply now. Our SEO work is resold by more than 100 agencies across United States, United Kingdom, Canada, Australia…
(A link to a screenshot in case the text gets edited) Good on my friend for being accepted, but is this the type of description you expect to see in a quality directory that has no paid links? That should not surprise anyone, as human editors are human. Crum continues, "Some directories, like the old Yahoo! Directory for example, are often useful at first, but become less useful as they are bombarded with submissions".
Useful: It is a loaded word. Like beauty, usefulness is in the eye of the beholder (or user, in this case). The eBusiness Directory has quite a few entries in it, so try some searches using the search box that invites you to search the directory:
"seo" = no matches found
"search engine optimization" = 110 results found
"search specialist" = three results – see image below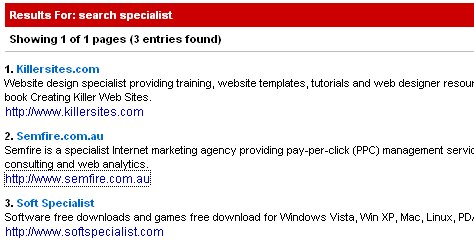 The description for Jaankanellis.com is precious (screenshot link):
We're sorry, but we could not fulfill your request for / on this server. An invalid request was received from your browser. This may be caused by a malfunctioning proxy server or browser privacy software. Your technical support key is: 421c-8b5f-1756-6707
Is this something you'd see in a quality, human-edited directory?
In my day job at a multi-billion-dollar directory company I am privileged to work with usability experts and others who are part of UX (user experience). In the mid 1990s my work at Unisys included what was then known as "human factors". I video-taped typical users of our software while they tried out one of our software prototypes. We do this at my current employer all the time. We analyse this feedback and use it to improve our directories. Asking real users for feedback eliminates guesswork and personal bias in determining what is "useful". WebProNews asks for feedback, so you should give it.
We should applaud WebProNews for launching a directory that they hope will be "better" than others. I don't think it will be any better or worse than the hundreds of other directories they disparage. Why? The existing submissions include some great sites, but the examples here suggest that it won't be much different.
This "directory" begins with a directory metaphor. There are 18 categories that you can browse to a second sub-category level. So far, so good. If you hit a category that is split over many pages, you could be turning pages where the listings seem to be in submission order. Sooner or later you will try the search box, as I did.
The search function is limited. Numerous SEO listings exist, but they can't be found when you type "seo" or "SEO" but you get them when you spell the acronym in full. The earlier example of searching for a search specialist gives one unexpected result – of a software download service that has "Specialist" in its title. This is not useful to end users.
SEOs will submit to this directory over the next few weeks and I also expect to see no Toolbar PR on these pages in due course, as the links are clean. If you look closer at the links, many end in /index.php. Any good SEO will tell you that this is bad linking practice as it dilutes the link love for the recipient. Therefore, I don't think this directory is particularly useful for search engine optimising purposes. On the other hand, the Yahoo directory is still very good value for link love. I don't have an account at Yahoo, but I have seen some backlink experiments where the test sites with a Yahoo backlink did better than equivalent sites that did not.
It is early days for WebProNews' directory. I wish it well.