When Big Brands Break — Singapore Airlines
I work mostly with large corporate websites and know that they are managed by numerous people, all with varying degrees of knowledge and care about the big picture. Hence they break all the time.
I usually choose Singapore Airlines (SQ) when travelling to Asia. Being a former frequent flyer, I don't visit Flyertalk.com much these days, but I took a peek and found the current thread about SQ's new website:
New singaporeair.com website issues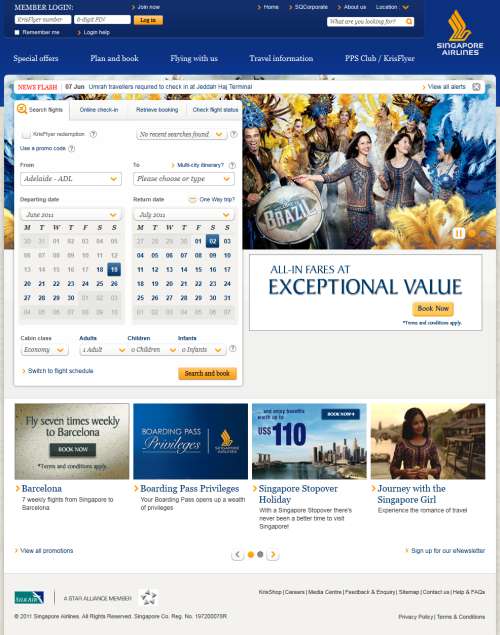 Hmm. It's the first time I have come across a travel site with such a dominating calendar on the home page. There isn't much information there until you click through to other pages. I trust they had good reason to change to a minimalist theme.
The regulars at Flyertalk speak in airline industry jargon, which you can soon pick up, but there's no mistaking the disappointment with numerous usability issues, such as:
Large header images, when viewed on a 15-inch laptop screen
Fuzzy images in PDFs
Too much scrolling
Too many clicks to get anywhere, e.g. Corporate
Error messages in the booking process
Failed online booking, but credit card charged twice
Cryptic wording
Those are subjective observations, but they are from frequent flyers. Obviously, the marketers at SQ accepted the new design and approved it.
My observations
The path to the Corporate page is tortuous. First you click the link in the top nav bar and you reach an empty page that says: To access SQCorporate, please click here. That takes you to a Location Settings page where you have to supply your location. The site already shows my location, so this is a needless step.
Finally I reach the Corporate page, but it isn't what I expected. I thought I was going to the Singapore Airlines corporate page, not one about its corporate travel offerings.
I like some parts of the booking interface. The suggested alternative dates are shown in an intuitive layout. It knows that I am in Australia, so the prices are in $AUD.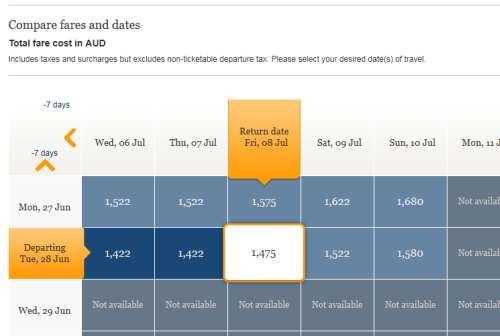 If you make the wrong selection, such as a return date before the departure date, the form resets everything, which adds to the annoyance. This includes placing the default return date before the departure date! This should be a simple coding fix.
If you choose a departure point, say, Apia in Samoa and a reasonable destination such as Auckland, NZ, you get a cryptic error: Origin selected in your query is missing or not served
If SQ doesn't serve Apia, then why show it? If it is a valid starting point, then don't show any invalid destinations in the selection drop-down.
The flight schedule results page has a bit of unintended humour. The alt tags for the aeroplane icons read, "DEVELOPER! – INSERT DATE OF FLIGHT HERE".
Petition for old website
One customer in Singapore has been so annoyed by this new design that he has set up a petition page at change.org, asking for the return of the old website. It has attracted only 17 signatures over the last three days of its existence.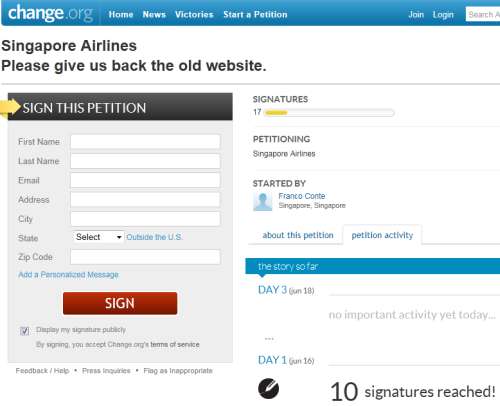 Will the petition work? I doubt it, unless the local newspapers pick up the story and embarrass the company. New websites are the culmination of a long, expensive process. They must have held celebratory parties and a lot of faces will need to be saved.
The petition organiser, FrancoConte has done some digging and alleges:
…and here is why (I think) the new Singapore Air website is so bad: they copied it from the Italians.

The website for Singapore Air has pretty much the same structure and even the same text as Alitalia (the Italian state airline).

http://www.alitalia.com/US_EN/home/index.aspx
http://www.singaporeair.com/SAA-flow…execution=e5s1

The text of the main menu (Special Offers, etc) is almost the same.
So it's the text for the tabs:
(SQ) Search Flight = (AZ) Flight
(SQ) Online Check-In = (AZ) Web Check-in

Even the "Location" entry is in the same spot, and much more.

Or maybe both of them just bought an off the shelf website template for 10 USD
Wrong. The two sites are built with different technologies — .NET versus Java. Airline booking websites are not very imaginative and say much the same thing, so let's leave it at that.
But another Flyertalk poster gave an example of one Spanish sentence showing up in the middle of an English note about his baggage allowance.
There are numerous broken links, but we should expect this from large websites, even brand new ones.
Keep your eye on the Flyertalk thread for more developments.
Finally, there is no sign of any SEO — I'd bet SQ didn't ask for it. Good news for the Singapore SEO agencies, I suppose.