WhereIs Maps now powers Google Maps
You probably know the streets in your neighbourhood better than other suburbs, so what better way to test your new GPS than to plot a route from your home to some known destination. I have evaluated a few car GPS units and own a couple of Garmin units. The most recent one is a Garmin nuvi 1390T, which is powered by Sensis® WhereIs® Maps. But this post isn't about the GPS — it's about the maps.
Have you tried to plot a route in Bing lately? Here is what one of my local routes looks like. I live a couple of streets off Wattle Avenue in Werribee in an area that was a market garden eight years ago. Wattle Avenue borders the dairy and agricultural technology training colleges, in other words, we have green paddocks and sheep along Wattle Avenue.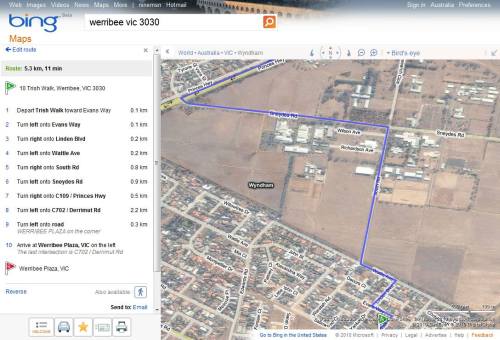 When I trialled a Navigon (IIRC) GPS app for my iPhone by plotting a route to Werribee Plaza, I was told to turn right from Wattle Avenue into "South Road". This was a surprise. It seems that Bing is powered from the same data. As seen in the StreetView image below, South Road is blocked by a farm fence and there is no sign with the street name. [URL]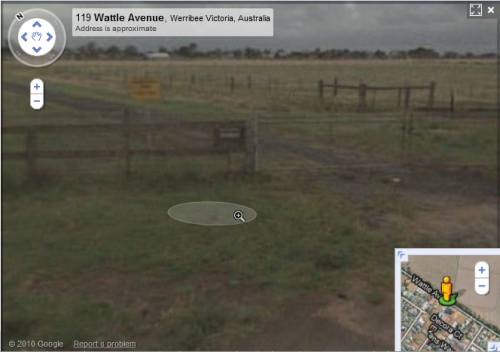 If you weren't a local, you'd be stumped at that point. I rang the map provider nearly a year ago and spoke to someone who took down the details, but if the correction has reached Bing Maps it has not been adopted. This is often the case with GPS vendors too — they seem to have a delay before an update makes it to the boxed units and sometimes even the soft download isn't up to date.
WhereIs Powers Google Maps
Compare the same location in Google Maps below (right). That road isn't even on the map, as it is not sealed and is on private land. My Garmin 1390T and 310 are powered by WhereIs, which knows my suburb a lot better.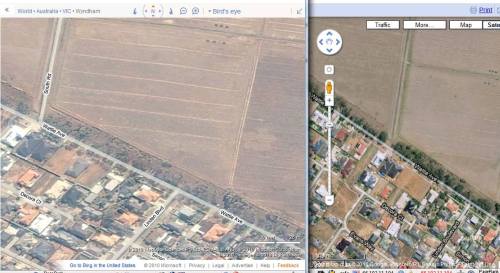 I only found out by chance that Google Maps in Australia is powered by Sensis WhereIs Maps when I glanced at the bottom right of the map. I can't find any online mention of this deal, so this might be one of my rare scoops. Great achievement, Sensis!