Why I don't display my numerous TopSEOs awards
A long time ago I alerted my friend Edward Lewis about this company that purported to rank SEO companies and awarded them badges. I had been working as an in-house SEO at a large IYP, so my own businesses had not been operating (or barely). Those websites, however were and are still up. (as it so happens, I have been downsized at Sensis Yellow Pages® as of this coming Friday, so I may need to revive those businesses):
Since 2008 I had been getting "award badges" from TopSEOs.com such as the following examples: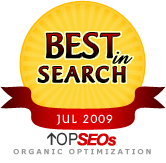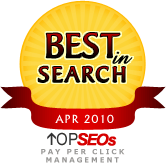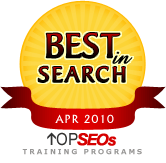 The reason I don't display them is pretty simple: I didn't deserve a ranking that could not be determined by anyone. It's meaningless at best – do we rank our doctors? Is Fred Nurk better than me? Moreover, the list of my clients is out of date or taken out of context.
Here is an example of my latest #2 ranking for TrainSEM.com: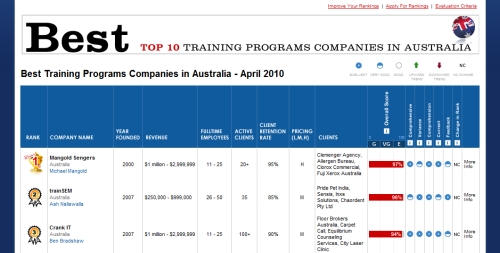 The list of clients is taken from my testimonials, with the odd exception of my soon-to-be former employer Sensis. The latter is mentioned on the About page as a place where I worked. The number of employees, active clients, client retention rate (!) etc is sheer fiction. Here is a screen shot of the detailed profile for TrainSEM on their site.
There is a similar ranking chart for PPC companies and one for Organic SEOs. I haven't received a recent award for Organic SEO possibly because SEM911 sounds like it does SEM (which a lot of ignorant people think means paid search – PPC), hence SEM911 keeps winning PPC awards. In reality, I haven't done any major PPC work since 2005, so it's irritating to keep getting these flattering awards. OK, I managed a 7-figure annual PPC spend for my current employer, but that doesn't count for SEM911. The profile for SEM911 is accurate.
My "rankings"? If I remember correctly, I might have been sent an email or three in the early days, encouraging me to get a paid listing. I used to get a #1 ranking for TrainSEM when Kalena Jordan was the only other person to offer SEO training. Sometimes her Search Engine College would rank #1 and sometimes it was me. Then as other companies entered the training market, we were demoted. In those days there was not a separate list for Australia, so we were on the global list. I hardly do any SEO training in Australia, but I'm not worried about the non-existent TopSEOs ranking for India where most of my students live.
This isn't the first month when I have received two different ranks for the same website one minute apart, (ranks #2 and #3) – OK, this is because in the US rankings, TrainSEM is #3 but in Australia it is #2. However, in the column for "Comprehensive", for Australia I score "Very Good" but in the US I am "Excellent".
Some of my work colleagues have done Bruce Clay's SEO training in Australia and I have seen the detailed course notes – they are comprehensive. In the Australian list he doesn't make the top 10 but in the US, he's #4 and Kalena scrapes in at #10. Jill Whalen offers SEO training too, but I can't recall seeing her site on the list.
Begs the same question others are asking – who makes the list and who doesn't?
I have never paid to be ranked by TopSEOs or to be a member. Initially, TopSEOs only dished out a free membership badge, which I displayed, but I dropped it some years ago. I don't believe I linked it to them, or perhaps it was nofollowed – not terribly important. Each month I would get at least one award but no attempt was made to sell me a membership. Perhaps the time zone difference was too great. It was amusing to see who was at the top – either they were a new company or they had paid for top billing.
Fast forward to the present.
There's a small tempest brewing about TopSEOs right now:
My verdict: TopSEOs have not tried the hard sell on me but I agree that a for-profit company is in no position to rank anyone or anything, particularly SEOs.
There is no comparison between an agency with 10 happy customers who were ranked #1 for non-competitive phrases and another agency with 10 equally happy customers who got #1 placement for very competitive phrases. If the set of customers were swapped around, the results might be very different.
The victim here is the SEO's potential customer. It is bad enough that anyone can slap on an SEO shingle, but if they can also get a favourable ranking by virtue of a paid review/inspection, then there is a risk that a shonky operator might fall through the cracks and be awarded a high ranking.
Fortunately, my free high rankings have not given me a single paying customer (that I can identify) through TopSEOs. I think there's a message there.