Will doxo set the world on fire?
A new Seattle company doxo has launched, offering to help companies that presently send paper bills to their customers.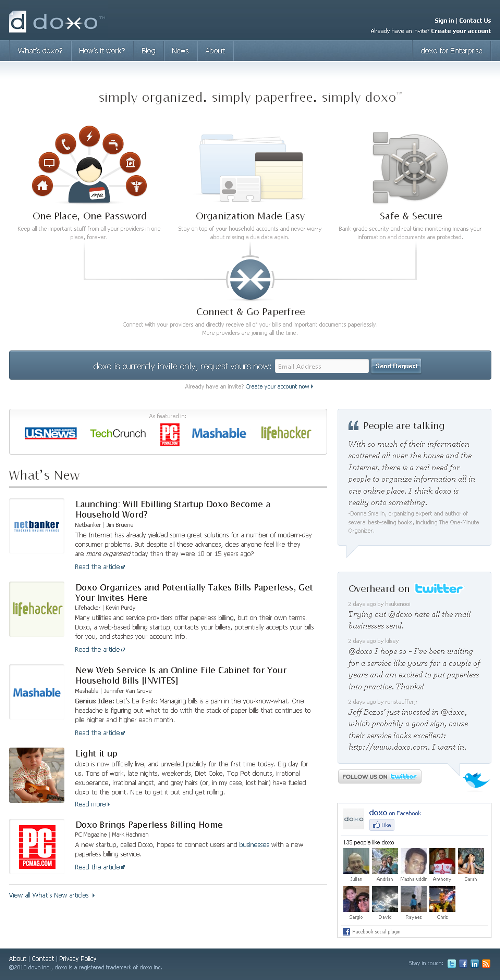 doxo has set up a WordPress-based website and blog but it hasn't spent much time thinking of SEO or online reputation hygiene factors. Quite understandable for a startup with better things to think about, but they need to fix the latter ASAP, if not sooner (doxo peeps, contact me — it's not something to put in a blog post).
Business model
The doxo business model is simple:
Free to use by bill payers (us).
No ads and no spam.
Billers pay doxo for the privilege and save money on not sending paper bills.
Data is stored forever.
Value proposition to users
The attraction to users is that they don't need to login to numerous (US average is 22) merchants every month to check their transactions. doxo will store all their bills and statements "forever".
Who'll sign up?
Like most companies, doxo is starting "nationwide" (that word usually means the United States and it applies in this case.) Access is invite-only via their home page. I live in an equally wide nation, just not the US, so I won't be signing up, but if I did live there, would I sign up?
I have signed up for electronic billing only where the biller started charging up to $2.50 for a paper bill. The rest of my bills still come on paper, even though I pay most via my online bank.
Why? I like to organise my tax stuff on paper and give it all to my accountant, so I don't want to waste my paper, toner and printer on printing out electronic bills. I'm less likely to forget a paper invoice sitting on my desk than an email notification.
What's missing?
There are no billers yet – presumably they are being signed up as we speak. However the biggest shortcoming is that you can't pay bills through doxo! All it does for now is to store electronic copies of the invoices, so you don't need to waste time opening envelopes and filing paper invoices and statements (or throw them out). You still need to pay those bills as you do today (hopefully, you pay them online).
What's good about doxo?
My electronic billers send me an email when an invoice or renewal is due and I pay it by clicking a link in the email, although that might take me to their website first. The transaction details (or a summary record)  are stored at their website and on my bank or PayPal site.
That got me thinking how would this change under the doxo model.
I have a lot of billers who require me to renew manually (or I have opted not to auto-renew), such as GoDaddy. I can't see doxo replacing that step. Once I am at GoDaddy to renew, I don't need doxo, unless my receipt can be sent there.
I have some billers whom I have set up to direct-debit my bank account and send me a statement, e.g. my telco. Similarly, I have some PayPal subscriptions. Those receipts could be sent direct to doxo.
I have some shares and I am annually reminded to opt for paperless annual reports and dividend notifications. Yes, these could go to doxo, (who should look into a way of not duplicating stored documents such as annual reports).
If doxo enables bill-pay in the future and offers some rules-based interface where I get a few choices as to what to auto-renew and what to review manually, then I will be interested.
There is some peace of mind that all my payment records are stored centrally, so if I lose my home in a proverbial fire, at least I know my bills are safe. 🙂
Do people care about saving paper?
Various reports say that much of the general public is like me — only 10 to 15% of bill payers have opted for paperless bills.
Paper is a great invention and keeps a lot of people employed. If I have to choose between saving the environment from pollution by paper mills and post office motorbikes versus tree plantations that generate oxygen, I'd choose the latter.
doxo plus
Undoubtedly, doxo has a few ideas it hasn't shared yet, such as bill-pay, but a major opportunity is budgeting. When it has such a grandstand view of our spending habits and amounts, it can recommend ways to save money and with permission-based marketing, to ask for additional details such as income. This would facilitate goal-setting applications, alerts, etc. This latter option is available from a few banks, but they don't go down to the same level of detail.
Let's see how doxo fares in the US. I wish them well.