Your account is currently unavailable due to a site issue. 2019
Facebook users. You get this message on the screen, "Account Temporarily Unavailable. Your account is currently unavailable due to a site issue. We expect this to be resolved shortly. Please try again in a few minutes."

Don't panic. It's a recurring problem and it is probably not just you facing the problem. I had this problem and here is what I did:
I deleted all cookies and flushed the cache. No difference, except that the error message changed to this.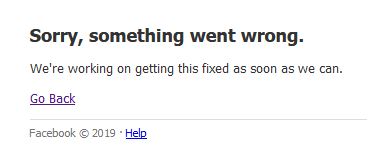 Tried another browser (went from Firefox to Chrome). No difference.
Checked my Facebook account from my phone app – works! Big relief.
Went back to my laptop. Remember that I flushed cookies, so I am not even logged into the previous session. Problem still there. OK, this is most likely a technical issue somewhere between me and the nearest Facebook server. The site does not come up. Nothing personal. Phew. I did not offend anyone.
Checked Facebook (web interface) from another city (my work environment places all of us in another city, while my laptop operates on wi-fi from my city) – Facebook and my account are all working normally. More relief.
Solution?
Do all the above where possible.
Just wait and do something more productive. The technicians at Facebook will fix it in due course.
In my instance, the problem was resolved by Facebook in less time than it took to write this post.