SanDisk Cruzer Contour 8 GB – Review
by Ash Nallawalla
You might think that a Flash drive is just another Flash drive, but is it really? The first 512 MB drive I bought set me back US$88 at Fry's Electronics. Today, I can buy the same capacity drive locally for less than $15. OK, prices have come down and capacities have gone up, but that is just part of the USB Flash drive's evolution.

Those of us who use Windows Vista know about ReadyBoost, which enables the PC to use the Flash drive as additional RAM. For laptop owners, this is perhaps the cheapest way to get a RAM upgrade. Flash drives are sold in various form factors – ranging from fashion accessories, watches, attached to a Swiss Army Knife, hanging on a lanyard, with removable skins, with a fingerprint reader, and so on.
SanDisk Cruzer Contour 8 GB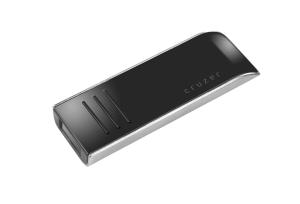 SanDisk Cruzer Contour is a USB Flash Drive. Available in 4 GB and 8 GB capacities, this smart device makes the concept of portable applications a reality. Yes, you can carry your own configured programs in your pocket and run them on someone else's computer.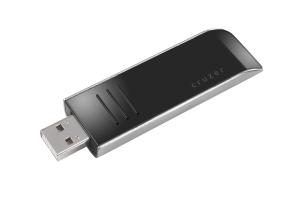 The Cruzer Contour hits the 8 GB capacity mark. In January, I picked up a 2 GB SanDisk Cruzer Micro to supplement my Windows Vista laptop's existing 2 GB RAM. I have seldom filled my 512 MB Flash drives to capacity, so why would someone need an 8 GB drive? The answer is partly U3 (see earlier post) and partly our desire to make our data portable. It is certified for Microsoft Windows 2000, XP, Vista and Mac OS X (The device comes with a "Works with Windows Vista"

label, not a "Certified for Windows Vista" one.)
I have already lost one cap from my existing SanDisk Cruzer Micro drive, but this won't be an issue with the Cruzer Contour, as it has a sliding cover that hides the USB connector when not in use. It features ReadyBoost and includes the following U3 compatible programs:
CruzerSync – Desktop synchronisation tool
SignupShield – Password manager
Skype – PC to PC video and audio calls
Avast – Antivirus
HP Photosmart – Digital photo organiser/editor
Sudoku/Mahjong – Games
Storage is, as Rolls Royce once used to describe their cars' horsepower, adequate. I could describe it as "whopping", but I know that in a few years, 8 GB will be considered tiny. Today, the 8 GB Cruzer Contour can hold up to:
19,200 photos
1920 tunes
2560 minutes of MP4 QCIF videos
In theory, that is just under 43 hours of movies! I suspect that you could watch more movies on a battery-powered laptop using a USB drive than by running them from its hard disk or by playing the DVD drive.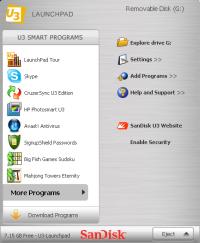 More realistically, you could take your email, browser bookmarks, and many large files with you. The drive synchronises with your PC when connected but it will not leave any trace on any other PC. The supplied programs and the U3 software took up 110 MB, leaving 7.52 GB free. The file system uses FAT32, which makes it compatible with older PCs. You can remove U3 completely, but then the U3 programs won't work and you will have a dumb 8 GB storage device.
Performance
SanDisk claims that its write speed is 18 MB/sec and read speed is 25 MB/sec, which is twice as fast as SanDisk's previous top-of-the-line model. Windows Vista ReadyBoost needs a much lower performance to work. Using the Vista Event Viewer and looking for Event ID 1000, I noted that the Cruzer Contour has a random read speed of 4.736 MB/sec and a sequential write speed of 5.815 MB/sec. I don't know why the numbers are so different from the claims. (By comparison, my 2 GB SanDisk Cruzer Micro reports read speed of 4.961 MB/sec and a much slower 2.946 MB/sec for write.)
Microsoft's specifications are:
Premium flash storage must meet the applicable standards for the connected bus and have the following features:

At least 500MB available for ReadyBoost cache
5 MB/sec throughput for random 4k reads across the entire device
3 MB/sec throughput for sequential 512k writes across the entire
device
In Use
Opening the box was a challenge for me, as I missed the black sticker (on a black box) on the left and opened it from the right. I could not believe how tough it was to peel off the layers as I fought my way to the tightly wedged device. Then I realised my mistake! There is no lanyard provided – indeed the drive has no hook, but it comes with a leather pouch with a hook for the lanyard or keychain. It is a snug fit, so the drive is not going to slide out.
Now, sliding the Cruzer Contour's cover off and on was not as smooth as I expected. The USB connector's dust protection flap is folded when packed, and has to hinge outwards as you slide it. After several uses, it still takes some effort to get the USB connector to slide out and it is equally tricky to close it. Perhaps this will settle down after regular use.
Compatibility
You will need at least Windows 2000 SP4, Windows XP or Windows Vista to use U3. For storage only, you can use Windows 2000 or later, Mac OSX+, or Linux. The PC must have a high speed USB 2.0 port, which will be found on most PCs bought in the past six years.
Software
I downloaded the Firefox browser for U3 which is 7.84 MB, compared to the standard version which is 5.7 MB. I thought that the U3 version would be smaller. Other free programs I downloaded were OpenOffice.org, Opera, PuTTY, Trillian Basic, WinSCP and FileZilla. There are dozens of free programs that I could download and not make a big dent in the 8 GB capacity! OpenOffice was the biggest among my downloads, at 222 MB (during the download it turned out to be 76.3 MB). There are not a lot of PCs that don't have Microsoft Office on them, but if I encounter one, I might be able to use OpenOffice.org (OpenOffice did not work under Windows Vista in my test).
Availability
You can get the SanDisk Cruzer Contour 8GB drive from Amazon for about US$116. The 4 GB model costs around US$60. You are paying a bit more for the U3 and ReadyBoost functionality but it is worth it for the convenience of having customised programs and passwords in your pocket.
[youtube width="425″ height="335″]http://www.youtube.com/watch?v=fnRIlv8-z9o[/youtube]