Google demotes JC Penney; JC Penney fires SEO company
The New York Times has published a well-informed account of how a major US retailer was using alleged paid links from dubious websites. Entitled The Dirty Little Secrets of Search, writer David Segal outlines the process of searching for household items and then is surprised that:
in the last several months, one name turned up, with uncanny regularity, in the No. 1 spot for each and every term:

J. C. Penney.

The company bested millions of sites — and not just in searches for dresses, bedding and area rugs. For months, it was consistently at or near the top in searches for "skinny jeans," "home decor," "comforter sets," "furniture" and dozens of other words and phrases, from the blandly generic ("tablecloths") to the strangely specific ("grommet top curtains").
The New York Times article generously gives a clean link to a local SEO with the title attribute of "The S.E.O. expert's company" (first time I have seen the acronym dotted).

Good on the local SEO to get such a link (the title attribute didn't help at all when I last checked), but enough about that. The research showed that 2,015 backlinks came from mostly dodgy sites:
Some of the 2,015 pages are on sites related, at least nominally, to clothing. But most are not. The phrase "black dresses" and a Penney link were tacked to the bottom of a site called nuclear.engineeringaddict.com. "Evening dresses" appeared on a site called casino-focus.com. "Cocktail dresses" showed up on bulgariapropertyportal.com. "Casual dresses" was on a site called elistofbanks.com. "Semi-formal dresses" was pasted, rather incongruously, on usclettermen.org.
Off went the NYT with the evidence to Matt Cutts. Please read the story at the NYT site for the details, but the outcomes were:
Within a week, JCPenney.com was no longer #1 for many terms. It dropped about 70 positions. Nobody searches 6 pages for these generic terms, when there are many other brand names on page 1. More on this later.
Penney fired their SEO company (why, when earlier they had no knowledge of who placed the links?)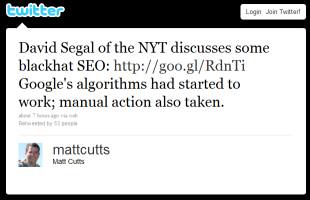 JC Penney wrote to the NYT saying that only 7 percent of their traffic comes from organic search results. Really? I'd be concerned if I were in charge of their website. The Internet Retailer places JC Penney at #16 in its list of the top 500 online retailers. I don't have access to their paid report, which might provide a better breakdown of this traffic, or it might not. JC Penney said to the NYT that they also got referrals from other online sites and mobile apps, which is all "Internet traffic" these days.
Link buying seems to be the salvation of many business sites, since they find it too difficult to attract unsolicited links. You may have seen recent comments from other SEOs that paid links do work (until Google finds out). NYT even managed to find a site owner who was willing to share why he linked to JC Penney. Corsin Camichel from Zurich operates Geekness – closer to the world, whose home page shows a Toolbar PageRank of 0. I wonder if it was higher before this incident.
According to the NYT article, Camichel allegedly used TMX (hosted in Russia) to get the link to place in his sidebar. TMX doesn't pay money; it pays points, which you can use to get traffic to your sites.
So what's my take on all this. It's not news. When you search for clothing items, you will see lots of prominent brands on the first page of Google results. They are not necessarily black hatters, for many people love to drop links to items they like or have bought, in their online conversations. You have to wonder why so many people go to Q&A sites to ask for opinions about specific items.
So, if they link with keyword-rich anchor text, you need to question their motives. When done "properly", no algorithm will ever detect these either. After all, we're told that we are not penalised for who links to us. 😉